Gooseberry Mousse is one of those lush dishes particularly as Spring comes out and the gooseberries are in abundance. I love the tart taste of this rich Gooseberry Mousse. Definitely for dinner parties as it is simple to put together and looks amazing too.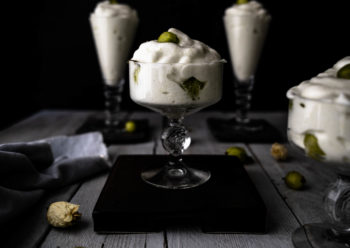 Ingredients
Water retained from chickpeas drained from can
2tsp arrowroot
1tsp xantham gum
50g raw unrefined cane sugar
1 lime, juice
200g gooseberries
Instructions
Using a mixer, whisk at medium speed the water until it goes fluffy. This will take around 5 minutes.
Add the arrowroot. Continue whizzing but increase the speed to high speed. The mousse should turn into a lush white colour. Add the xantham gum.
Place the sugar in a grinder and pulse until fine. Add to the mixer. The mousse should be thick.
Gradually add the lime juice and continue whizzing.
Pulse the gooseberries in a blender unti9l well blended and add a spoonful into the mousse at a time.
Spoon the mousse into a serving bowl or into bowls and place in the fridge for about 10 minutes.
Serve chilled.