Succulent refreshing tart gooseberries swirled in a light airy textured citrus lime aquafaba; Gooseberry Mousse.
Wrap your tongue round something light and fluffy.  And, melt.
This dish will bust any belief that vegan can't be made with a few choice ingredients.
Make this:
When your heart is palpitating from running to the bus stop and now a dish with a good sugar fix will have you punching for the air again
When you've just taken the dog for a spring walk and a treat to have your legs on the poof is next on the agenda
When your bestie drops in for last minute dinner and a homely dessert that'll have you relaxing into your next prosecco
Gooseberry Mousse was inspired when picking gooseberries at a friend's allotment and sitting in front of a summer bonfire as the sunset.
Gooseberries are common to Europe and North America.  They thrive in temperate humid climate in well-drained soil.  Plant in sunny spots. They will ripen and sweeten as the season progresses from May to September.
Gooseberry Mousse is vegan and gluten-free.
What equipment to use
For this recipe, I suggest:
High speed blender
Electric mixer
What to do next
Tag me on @ethiveganquantum on Instagram to show me what you've made and let me know you're happy for me to share.
My recipes are featured in vegan speciality publications: Nourished, Vegan Life, Plant Based and Vegan, Food and Living.
Order my first self-published book, "Essence: The Beginner's Guide to Veganism" part of the three-part Circle of Food series. My second book "Presence: The Ascending Vegan" – which explores how to maintain a vegan practice is out in 2027 – I have compiled all the chapters including recipes.
Going strong since 2013.
Love.
Edward x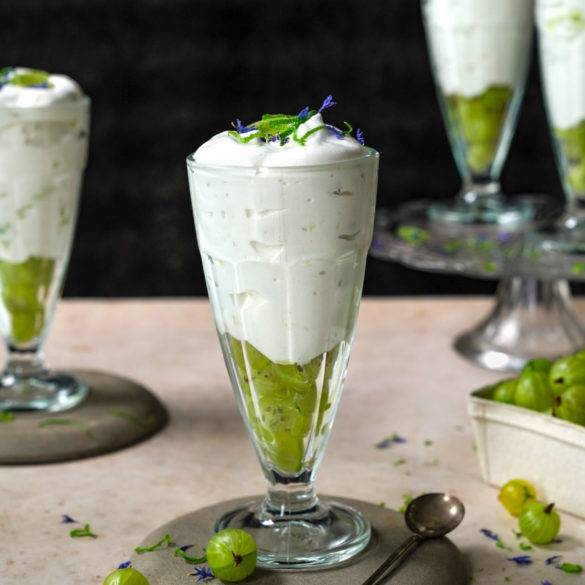 Ingredients
120ml aquafaba (Water retained from chickpeas drained from organic non-salted can)

1tsp arrowroot

½ tsp xantham gum

75g raw unrefined cane sugar

½ lime, juice

200g gooseberries
Instructions
Using a mixer, whisk at medium speed the water until it goes fluffy. This will take around 5 minutes.
Add the arrowroot. Continue whizzing but increase the speed to high speed. The mousse should turn into a lush white colour. Add the xanthan gum.
Place the sugar in a grinder and pulse until fine. Add to the mixer. The mousse should be thick.
Gradually add the lime juice and continue whizzing.
Pulse the gooseberries in a blender until well blended and add a spoonful into the mousse at a time.
Spoon the mousse into a serving bowl or into bowls and place in the fridge for about 10 minutes.
Serve chilled.