Juicy rich puckery tangy sour Rhubarb Tart laced with citrus sugar in an amaranth oat flaxseed shortcrust pastry.
Swallow something long and succulent. And, gulp.
This dish will burst your belief that vegan food can't be super yummy.
Make this:
When you've got mum over for dinner and need a dish that'll leave her gratified
When you're on a second date with your new beau/belle that'll have you peering into each other's eye
When it's a weekend and you fancy tucking into a sour dessert that'll have stoked as you lounge into your evening of decadence
Rhubarb Tart was inspired when criss-crossing our way from London to Frankfurt on a road trip with my brother and nabbing some tasty rhubarb on our epic journey.
Rhubarb is an astringent vegetable grown cool temperate climates.
Rhubarb is thought to originate from China back as far as 2,700 BC used for its medicinal purposes with purgative qualities. Its name is also derived from "barbarians of the Volga River"
The word "rhubarb" is used theatrically by actors as they background mumble to one another, which at its heart meant gobbledygook.
Prune puree, I purchase from Urban Native Organics and Wholefoods in Stroud Green, London.  It's a small store, which I support.  You can find them here 
It's the Clearspring brand that I use of the Prune puree.  Normally, once open, I place in the freezer for use subsequently.  This keeps it fresh and available to use at any time.
Amaranth seeds, I get from a non-profit small charitable store in Stoke Newington, London – I like to support small outlets, where I can.  You can find the shop here
Rhubarb Tart is vegan and gluten-free.
What to do next
Tag me on @ethiveganquantum on Instagram to show me what you've made and let me know you're happy for me to share.
My recipes are featured in vegan speciality publications: Nourished, Vegan Life, Plant Based and Vegan, Food and Living.
Order my first self-published book, "Essence: The Beginner's Guide to Veganism" part of the three-part Circle of Food series. My second book "Presence: The Ascending Vegan" – which explores how to maintain a vegan practice is out in 2027 – I have compiled all the chapters including recipes.
Going strong since 2013.
Love.
Edward x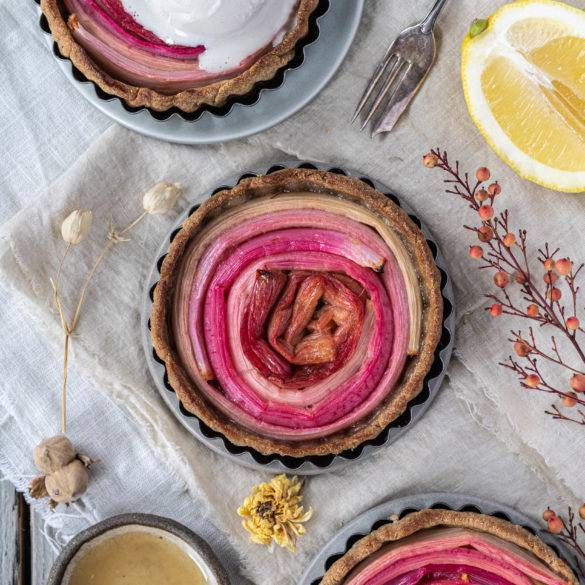 Ingredients
Filling

800g rhubarb

100g raw unrefined cane sugar

½ lemon, juice

Dry ingredients

100g amaranth seeds

50g oats

25g flaxseeds

25g raw unrefined cane sugar

Pinch of salt

75g tapioca

Wet ingredients

30g prune puree

8tbs filtered water

40g coconut oil

Olive oil for lining
Instructions
The easier option is to blend the rhubarb, maple syrup and lemon juice in processor. The more difficult option is to cut the rhubarb into thin strips and baste with a mixture of sugar and lemon juice. You decide.
Pre-heat the oven to gas mark 180 degrees Celsius or if you have a fan oven 160 degrees Celsius.

Make the pastry by placing the dry ingredients (not tapioca flour) into a high-speed blender and blending till fine. Transfer to a large mixing bowl add in the tapioca flour.
Toss in the prune puree and mix with hands. Next add the water. Continue using the hands. Then add the oil and knead into a bowl. Cover and leave the dough to rest in the fridge for about 30 minutes.

Weigh the dough and separate into balls of around 75g if using 6 small tart tins.
Line the tart tins with olive oils to ensure that the dough doesn't stick.
Place a dough ball between two baking sheets and roll into a circle – the circle should be large enough to cover the base of the tart tins. Cut away any excess. Bake the tart shells in the oven for 10 minutes. Remove from the oven.
Add the rhubarb mixture to the base of the tart shells. Bake in the oven for around 30 minutes.
Serve with vegan cream or ice-cream.