Dehusked broad beans with lemon, olive oil, shallots, garlic and clove-like basil and crushed peppercorns, Crushed Broad Bean Bruschetta.
Bask in hedonistic luxury as you bite into pure lushness. And, relax.
This dish will obliterate your belief that vegan food can't be this rocking gorgeous.
Make this:
When riotous waves of decadence wash over as you saunter through your palatial home. And, enjoy the ambience of tucking into Crushed Broad Beans as you swagger to the music in playing raucously in the background
When your new beau/belle has kipped overnight. A regal brunch to go with your relaxing day ahead awaits. Nothing short of a lush banquet will entice you both for more bad behaviour in and out of the bedroom
When you know you have a million and one things ahead of you in the day. And, a little protein that'll have you vaunting from pillar to post with ease and finesse. Saunter, darling
Crushed Broad Bean Bruschetta was inspired when sitting out on the balcony sipping orange juice and reading the paper while staying away overnight with an ex beau of mine.
Bruschetta sets me up for the day and makes a wonderful enriching starter or snack.  I love the vibrant colours of the crushed deskinned broad beans. Don't discard the shell of the bean themselves as they are nutritional and can be sautéed separately in a little oil. This Bruschetta makes a great addition to summer's day.
This Bruschetta is vegan.
What equipment to use
For this recipe, I suggest:
Chopper
What to do next
Tag me on @ethiveganquantum on Instagram to show me what you've made and let me know you're happy for me to share.
My recipes are featured in vegan speciality publications: Nourished, Vegan Life, Plant Based and Vegan, Food and Living.
Order my first self-published book, "Essence: The Beginner's Guide to Veganism" part of the three-part Circle of Food series. My second book "Presence: The Ascending Vegan" – which explores how to maintain a vegan practice is out in 2027 – I have compiled all the chapters including recipes.
Going strong since 2013.
Love.
Edward x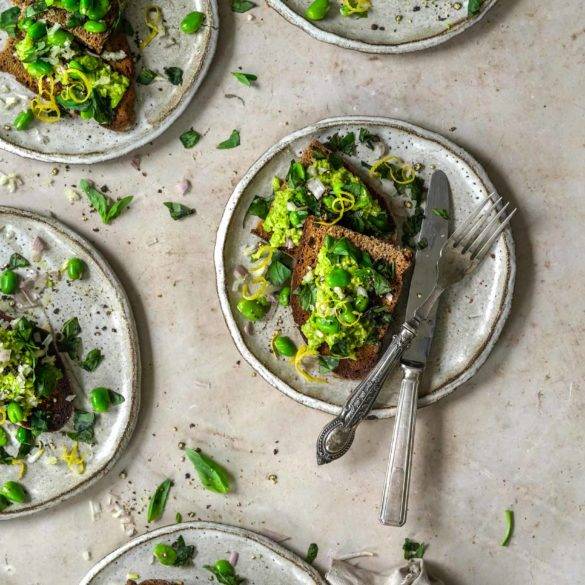 Ingredients
500g broad beans (yields 200g of shelled broad beans)

3tbs olive oil

½ lemon, juice

1 shallot, finely chopped

1 clove of garlic, crushed

Handful of basil leaves, hand teared

Pinch of salt

Peppercorns, crushed
Instructions
Blanche the broad beans in boiling water for three or four minutes. Use your hands to open the broad beans and deskin the beans. Discard the skins. (I retain the skins and use them in other dishes).
Place half of the broad beans in a chopper with oil, juice. Pulse to a rough texture.
Transfer to a mixing bowl with the shallot and garlic and remaining broad beans. Add a pinch of salt.
Serve with toasted rustic bread.
Garnish with crushed peppercorns and hand teared basil leaves.