Gooseberry Pie? Who doesn't love a bit of Gooseberry Pie? After binge watching "Bridgerton", I was inspired to create my own Gooseberry Pie.  The gooseberries may be tart but melded with the almonds and orange and touch of Star Anise and cinnamon, I think this makes a fine combination and contrast – imagining what it might have been like in the Regency era.
Blanched almonds, I purchase from a nifty Asian outlet in Hayes.  It has an online presence too which can be found here – I love it because it is reasonably priced and tends to be good quality stuff which I use.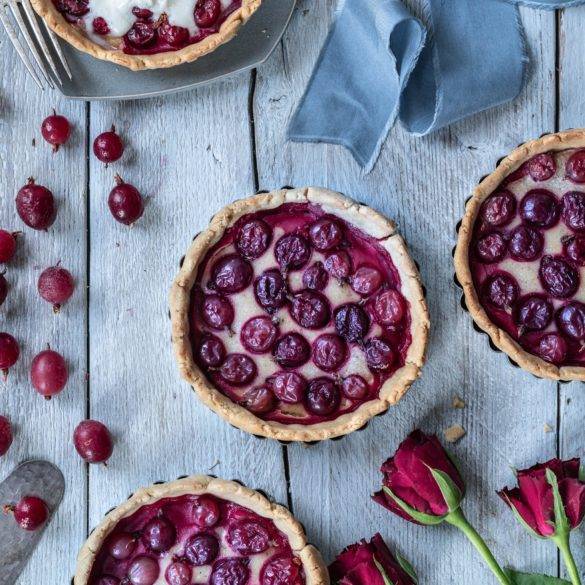 Ingredients
Dry ingredients
150g millet
30g flaxseeds
30g oats
50g raw unrefined cane sugar
100g white rice flour
60g tapioca flour
Pinch of salt
Wet ingredients
65ml olive oil
85ml filtered water
25g prune puree
For the filling
150g almonds, blanched ground
100g filtered water
1/2 orange, juice
1 Star anise
1 cinnamon stick – small
Instructions
Line 5 medium cake tins with oil.
Make the pastry by placing the millet, flaxseeds, oats and sugar into a high speed blender and blending till fine. Transfer to a large mixing bowl add in the rice and tapioca flours and salt.
Add in the wet pastry ingredients. Kneed the pastry into a dough. Weigh and measure the dough. Separate into 5 pieces of equal and approximate weight.
Form the dough into a ball and place between two sheets of baking paper. Roll out the dough into a thin circular layer. Remove one sheet and place around the flan dish.  Don't worry if the pastry comes over the edges - it gives it a rustic look.
Pre-heat oven to 180 degrees Celsius or if you have a convention fan, to 160 degrees Celsius.
Prick the pastry and place in the oven for about 15 minutes.
Make the filling by placing the Star Anise and cinnamon with the orange juice and water. Whizz until the fine. Add in the ground almond
Take the pastry from the oven and spread the almond filling over each of the 5 pastries.
Place the gooseberries on top of the almond filling.
Place the pies in the oven for 25 minutes until golden.
Serve the Gooseberry Pies with vegan ice cream.