Indulge in something moist as oozes down your throat…And, slurp.
Tropical guava with nutty hemp and peppery basil seeds sweetened with dates and citrusy lemon; Guava Basil Dessert.
This recipe will burst any belief that vegan food can't be simple to make.
Make this:
When you've got a dinner party and need a quick and easy dessert that'll give you time back to focus on getting ready
When kiddies are running array round the house and giving them a treat will get them savouring on something lush and healthy
When it's summery outside and a tropical dessert that'll polish off the evening is just the treat
Guava Basil Dessert was inspired when hunting through a local specialty greengrocers and soft guava were lurking within; the thought of creating a dessert wasn't far behind.
Guava is a tropical fruit native to Mexico, central America and West Indes. Rich in Vitamin B9, it aids fertility and is even a richer source of Vitamin C than oranges. The benefit of this raw dish means all the benefits of the non-heat resistant Vitamins are retained.
Guava Basil Dessert is vegan, paleo and raw.
Love.
Edward x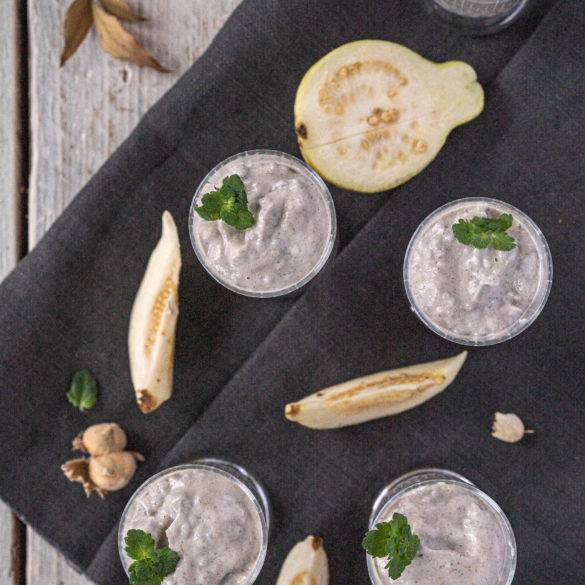 Ingredients
25g basil seeds

200ml filtered water

4 guavas

100g hulled hemp seeds

250ml water

150g dates, unpitted

Pinch of salt

½ lemon, juice

Optional – mint leaves
Instructions
Soak the basil seeds in water for 30 minutes set to one side.
Place the guava, hemp seeds, pitted dates, salt and lemon juice in a blender and blend till fine. Transfer to a large dish bowl.
Use a spatula to spoon in the basil seeds in to the guava mixture.
Transfer to a serving dish or spoon into dessert bowls.
Chill for about 30 minutes.
Garnish with mint and serve.