Sweet chestnut roasted with buttery pecans, apricots, cranberries, country herbs and a hint of fennel; Pecan Apricot Nut Roast.
Savour something sweet and savoury that'll have you nabbing for more. And, dab.
This recipe will smash any belief that vegan food can't be super tasty.
Make this:
When you've got the family over for some nosh and need a dish that's sufficiently meaty but based on nuts and flavoursome too
When you fancy a Sunday roast and one the trimmings in one dish and have greens to the side
When it's the festive season and you need a dish that'll you and your guests vying for more
Pecan Apricot Nut Roast was inspired when a friend served a process dish. Aghast, thoughts came about to create something majestic as an alternative and this Roast came about.
Pecans are native to Southern United States and Mexico, found along creeks and river beds. Their buttery flavour elevates sweets and savouries. Pecans are rich in magnesium providing anti-inflammatory benefits.
Apricots are high in Vitamin A. providing a much-needed immunity booster.
Pecan Apricot Nut Roast is vegan and gluten-free.
What to do next
Tag me on @ethiveganquantum on Instagram to show me what you've made and let me know you're happy for me to share.
My recipes are featured in vegan speciality publications: Nourished, Vegan Life, Plant Based and Vegan, Food and Living.
Order my first self-published book, "Essence: The Beginner's Guide to Veganism" part of the three-part Circle of Food series. My second book "Presence: The Ascending Vegan" – which explores how to maintain a vegan practice is out in 2027 – I have compiled all the chapters including recipes.
Going strong since 2013.
Love.
Edward x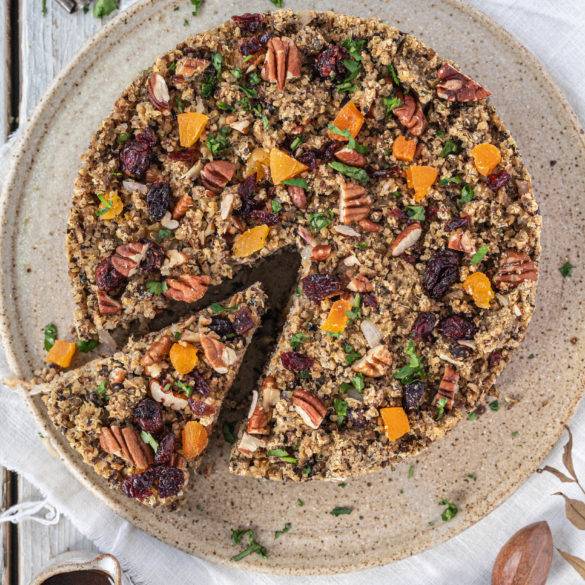 Ingredients
1 shallot

25ml olive oil

75g quinoa

200ml filtered water

200g chestnuts, cooked

50g pecans

40g oats

25g flaxseeds

50g dried apricots

25g dried cranberries

Few sprigs of parsley

1tbs marjoram

1tbs oregano

1/2 lemon, juice and zest

1tsp fennel seeds

2tbs filtered water

Season to taste
Instructions
Pierce and boil the chestnuts in filtered boiling water for 20 minutes. Drain and set-aside until cool. Remove the skin with a knife. Set to one side.
Cook the quinoa in water until the water dissolves.
Pre-heat oven to gas mark 180 degrees Celsius or if convection oven to 160 degrees Celsius.
Sauté the shallot in the oil until translucent. Add in the garlic cloves. Then add chopped peanuts and cook for a couple of more minutes.
In a blender roughly pulse the chestnuts. Transfer to a large mixing bowl. Add in the apricots, cranberries, herbs and fennel seeds. Mix well with the quinoa.
A high-food processor pulse the flaxseeds and oats until fine. Add to the mixing bowl with the shallot mixture and zest.
Pour in the lemon juice and water.
Season to taste.
Fold the chestnut mixture and smooth over to all sides. Cover with aluminium foil and place in the oven.
Roast the nut roast in the oven for 25 minutes. Remove from the oven.
Turnover and garnish with parsley.
Serve warm with some vegan gravy