Beluga lentils laced with lashings of mace, nutmeg and bitter parsley, thyme and sage and smoky molasses; Vegan Haggis.
Salivate over something flavoursome and scrummy. And, devour.
This dish will burst any belief that there aren't vegan substitutes for common dishes.
Make this:
When you've got a Burns Party Night and the evening is paced with poets ready to recite poetry
When you've a Sunday Roast and need a dish to satiate your hunger pangs
When you've got your Scottish friends over and need a dish to remind them of home.
Vegan Haggis was inspired when friends in Scotland were freely discussing what they'd had during Christmas. FOMO kicked in and a vegan version was created.
Haggis is national dish of Scotland and served when celebrating Scotland's national heroes, such as Robert Burns. While the original recipe involves chopped bits of animal parts – this recipe has nothing of this.
The molasses add a smoky, light bitter to this dish with the woody nutmeg, peppery mace elevating this haggis to new heights.  Beluga lentils are protein-package, hold their shape and absorb flavours exquisitely.
Vegan Haggis is gluten-free.
What to do next
Tag me on @ethiveganquantum on Instagram to show me what you've made and let me know you're happy for me to share.
My recipes are featured in vegan speciality publications: Nourished, Vegan Life, Plant Based and Vegan, Food and Living.
Order my first self-published book, "Essence: The Beginner's Guide to Veganism" part of the three-part Circle of Food series. My second book "Presence: The Ascending Vegan" – which explores how to maintain a vegan practice is out in 2027 – I have compiled all the chapters including recipes.
Going strong since 2013.
Love.
Edward x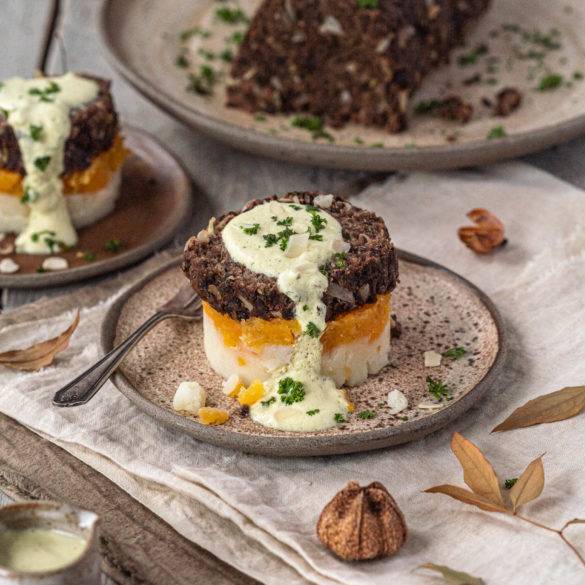 Ingredients
200g beluga lentils

2 onions, finely chopped

5tbs olive oil

65g oats

35g flaxseeds

30g rice flour

1 tsp salt

1 tsp ground black pepper

1 tsp ground dried coriander

1 tsp mace

1 tsp nutmeg

2 tsp fresh parsley, chopped

2 tsp fresh thyme (leaves only chopped fine)

2 tsp fresh sage (leaves only chopped fine)

2tbs blackstrap molasses

Water, enough to cook the haggis
Instructions
Soak the beluga beans overnight in filtered water. The following day pressure cook in enough water for 30 minutes.  Drain and set to one side.
Preheat oven to 180 degrees Celsius
Grind the oats, flaxseeds, salt, pepper, mace and nutmeg in a high-speed processor until fine. Transfer to a large bowl.
Toss in the rice flour, coriander, and the herbs. Combine well.
Sauté the onion in olive oil until translucent. Transfer to the mixing bowl with the blackstrap molasses.
Add in the drained beluga beans and combine well. Use your hands to shape the haggis into a cylinder.
Grab a loaf tin and line with aluminium foil. Line the foil with olive oil and place the haggis inside. Seal the haggis but leave a slight gap on top.
Have fill a deep baking tray with boiling filtered water. Place the haggis in the tray.
Bake the oven for 1 hour. Switch off until ready to serve.
Serve with potato, swede and even some whisky cream sauce.