Hazelnut Carob Tiffin came about as a result of a book launch party I held at Daunts independent Bookshop. I needed to devise something that was rather simple to put together and wasn't too messy. These Tiffin make for a stunning and mouth-watering snack and dessert.
What to do next
Tag me on @ethiveganquantum on Instagram to show me what you've made and let me know you're happy for me to share.
My recipes are featured in vegan speciality publications: Nourished, Vegan Life, Plant Based and Vegan, Food and Living.
Order my first self-published book, "Essence: The Beginner's Guide to Veganism" part of the three-part Circle of Food series. My second book "Presence: The Ascending Vegan" – which explores how to maintain a vegan practice is out in 2027 – I have compiled all the chapters including recipes.
Going strong since 2013.
Love.
Edward x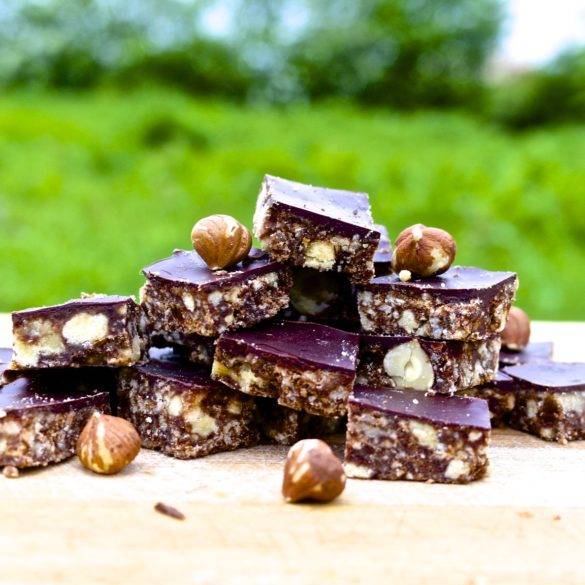 Ingredients
For biscuit
500g "00" Italian zero doppio flour
250g sunflower spread
1/2tsp salt
For chocolate covering
125g coconut oil
125g sunflower spread
8tbs golden syrup
100g carob
100g hazelnuts, chopped
50g raisins
Olive oil for baking tray
For topping
250g fine dark chocolate (at least 70% cocoa)
Instructions
Pre-heat oven to gas mark 180 degrees Celsius or if a convection oven to 160 degrees Celsius.
Make the biscuit mixture by combining the flour with sunflower spread and salt in a large mixing bowl. Use your hands to create a rough crumbly and lumpy texture. Place on a large baking tray and cook in the oven for about 20 minutes. Set aside.
Make the chocolate covering melt the sunflower spread and coconut oil in a pan. Add the golden syrup and carob. Continuing stirring until the golden syrup have melted. Switch off the heat.
Place the hazelnuts, raisins and biscuits mixture into large mixing bowl. Fold in the melted carob mixture ensuring that the biscuits do not break.
Take a large baking tray. Lightly brush with olive oil and place baking paper.
Using a spatula, drip the carob and hazelnut tiffin into the baking tray. Leave to set aside.
Melt the chocolate in a glass bowl over hot water. Drizzle over the tiffin. Leave to one side for about a couple of hours.
Gently remove the baking paper with the tiffin and cut the tiffin into squares.
Place the tiffin in the fridge to set.
Serve cold.