Vegan Fish Pie; Pillowy potatoes crown fleshy King Oyster Mushrooms baked in a white wine sauce laced with English mustard, wild bay leaves and sweet-scented parsley and chives.
Make this:
When you're wanting to reach out for comfort food on an autumnal/winter's day and the fireplace is stoked with its majestic flames blazing
When oceanic waves wash over you and you're dreaming of a hint of the sea to cascade over you and nothing but nothing but this Vegan Fishy Pie will satiate your desires
When you're grandma and your fam are over for Sunday grub and you're looking for nosh to complete your soiree
What to do next
Tag me on @ethiveganquantum on Instagram to show me what you've made and let me know you're happy for me to share.
My recipes are featured in vegan speciality publications: Nourished, Vegan Life, Plant Based and Vegan, Food and Living.
Order my first self-published book, "Essence: The Beginner's Guide to Veganism" part of the three-part Circle of Food series. My second book "Presence: The Ascending Vegan" – which explores how to maintain a vegan practice is out in 2027 – I have compiled all the chapters including recipes.
Going strong since 2013.
Love.
Edward x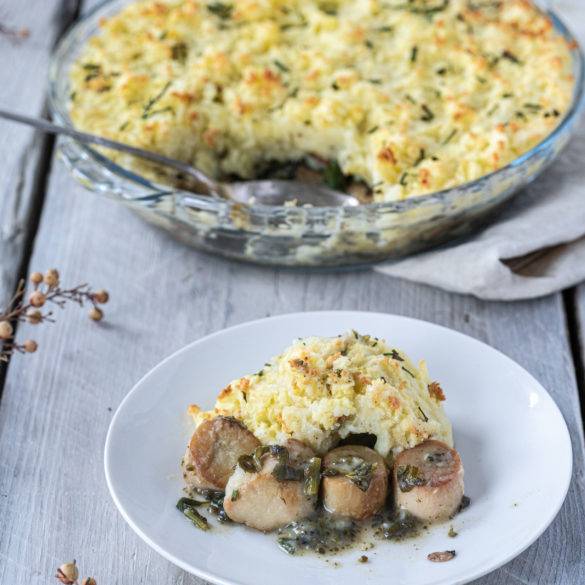 Ingredients
Topping
1kg potatoes
20g almonds
50ml filtered water
2tbs olive oil
Pinch of salt
Filling
500g King Oyster Mushrooms
4tbs olive oil
400ml vegetable stock
250ml dry white wine
2 bay leaves
1tbs tapioca flour
1tsp English mustard
3 Spring onions
2 cloves of garlic, minced
Few sprigs of parsley
Few sprigs of chives
2tbs seaweed (I use egg wrack but you can use nori/laver)
Pepper to taste
Instructions
Peel, cut and boil the potatoes until soft. Drain and place in a large mixing bowl. Masher with a masher.
In a high-speed blender, grind the almond and then add the water. Add to the potatoes with the oil and salt. Combine well and set to one side.
Preheat the oven to gas mark 180 degrees Celsius or if a convection oven to 160 degrees Celsius.
Slice the King Oyster Mushrooms and sauté in olive oil. Set to one side.
In a large pan. Bring the vegetable stock and wine to the boil with the bay leaves and gently simmer for about 10 minutes. Add in the tapioca flour to thicken. Switch off the heat.
Add the mustard garlic, parsley, chives, seaweed and pepper. Mix well and add in the King Oyster Mushrooms.
Line the Mushrooms combination at the base of a baking dish. Add the potatoes on top. Garnish with chives.
Bake in the oven for 20 minutes until the potatoes start to brown.