Vegan Fish Pie is made using King Oyster Mushrooms as a substitute for the fish, with the seaweed adding a hint of the sea. What I love about this dish is the combination of herbs with mustard and spring onions enhance the amalgamation of flavours.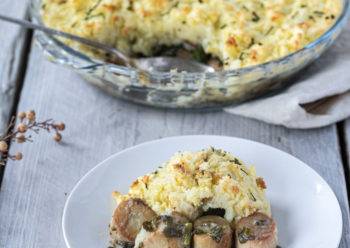 Ingredients
Topping
1kg potatoes
20g almonds
50ml filtered water
2tbs olive oil
Pinch of salt
Filling
500g King Oyster Mushrooms
4tbs olive oil
400ml vegetable stock
250ml dry white wine
2 bay leaves
1tbs tapioca flour
1tsp English mustard
3 Spring onions
2 cloves of garlic, minced
Few sprigs of parsley
Few sprigs of chives
2tbs seaweed (I use egg wrack but you can use nori/laver)
Pepper to taste
Instructions
Peel, cut and boil the potatoes until soft. Drain and place in a large mixing bowl. Masher with a masher.
In a high-speed blender, grind the almond and then add the water. Add to the potatoes with the oil and salt. Combine well and set to one side.
Preheat the oven to gas mark 180 degrees Celsius or if a convection oven to 160 degrees Celsius.
Slice the King Oyster Mushrooms and sauté in olive oil. Set to one side.
In a large pan. Bring the vegetable stock and wine to the boil with the bay leaves and gently simmer for about 10 minutes. Add in the tapioca flour to thicken. Switch off the heat.
Add the mustard garlic, parsley, chives, seaweed and pepper. Mix well and add in the King Oyster Mushrooms.
Line the Mushrooms combination at the base of a baking dish. Add the potatoes on top. Garnish with chives.
Bake in the oven for 20 minutes until the potatoes start to brown.
Notes
By Edward Daniel, Vegan Chef and Former Chair of The Vegan Society. Contributor to Vegan Life Magazine, Plant Based Magazine, Vegan Food and Living Magazine and OK! Magazine. Speaker and cooking demonstrator at Vegan Life Life Festival London, Mind Body and Spirit Festival London, Veganes Sommerfest Berlin, and Bali Vegan Festival. Author of "Essence: The Beginner's Guide to Veganism".