Jalapeno Salsa makes a great accompaniment to a burger and potato cake that veers towards the sweet side. Yet, this Salsa packs in a punch and I love that it involves simply blitzing in the processor – especially, if you are rushing to add this accompaniment to a dish.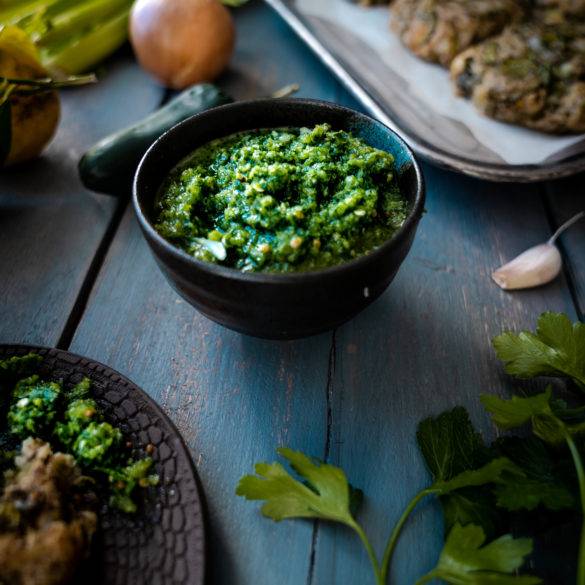 Ingredients
200g green tomatoes
½ onion
1 jalapeno peppers (deeded, if preferred)
3 garlic cloves
1tbs maple syrup
½ lemon, juice
Bunch of parsley, leaves and stalks
Salt and pepper to taste
Instructions
Put all the ingredients together into a processor. Blitz until the parsley breaks down.
Season to taste.
Allow to stand for about 10 minutes before serving.
Serve with burgers or potato cakes.
Notes
By Edward Daniel, Vegan Chef and Former Chair of The Vegan Society. Contributor to Vegan Life Magazine, Plant Based Magazine, Vegan Food and Living Magazine and OK! Magazine. Speaker and cooking demonstrator at Vegan Life Life Festival London, Mind Body and Spirit Festival London, Veganes Sommerfest Berlin, and Bali Vegan Festival. Author of "Essence: The Beginner's Guide to Veganism".