Radicchio and Hazelnut Flan has a subtle sweetness with Jerusalem artichokes, a pear, and lemon juice giving an exquisiteness to this dish. The radicchio will turn brown when cooked in the oven with it becoming sweeter as it bakes; losing its bitterness. I also love how this dish has a crunch to it as you bite into the different layers.
What to do next
Tag me on @ethiveganquantum on Instagram to show me what you've made and let me know you're happy for me to share.
My recipes are featured in vegan speciality publications: Nourished, Vegan Life, Plant Based and Vegan, Food and Living.
Order my first self-published book, "Essence: The Beginner's Guide to Veganism" part of the three-part Circle of Food series. My second book "Presence: The Ascending Vegan" – which explores how to maintain a vegan practice is out in 2027 – I have compiled all the chapters including recipes.
Going strong since 2013.
Love.
Edward x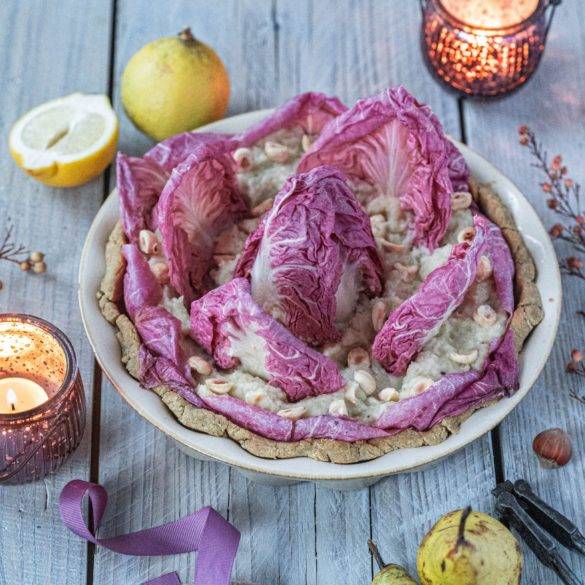 Ingredients
Crust
Dry ingredients
100g millet
75g sunflower seeds
30g flaxseeds
30g oats
75g chickpea flour
50g tapioca flour
Pinch of salt
Wet ingredients
65ml olive oil
85ml filtered water
25g prune puree
Filling
350g Jerusalem Artichokes
1 parsnip
1 medium potato
1 onion
3tbs olive oil
1 garlic clove
2tbs lemon juice
Season to taste
Instructions
Pre-heat oven to gas mark 180 degrees Celsius or if a convention oven to 160 degrees Celsius. Dry roast the hazelnuts in the oven for about 10 minutes. Remove from oven and over a sieve remove the dry skin. Set to one side.
In a high-speed blender blend the millet, sunflowers seeds, flaxseeds and oats. Place in a large mixing bowl. Add in the chickpea flour, tapioca flour and salt.
Add the oil, use a spatula to stir. Then add the water. Add in the prune puree. Knead for about 10 minutes until the dough forms into a ball.  Cover with cling film and place in the fridge for about an hour.
Preheat oven to 180 degrees Celsius or if a convention oven to 160 degrees Celsius.
Peel the Jerusalem Artichokes, parsnip, potato and place in boiling water. Cook for about 20 minutes until softened. Place in a food processor with the onion, garlic, lemon juice and oil. Season to taste.
Add the hazelnut and radicchio to the creamed mixture.
Line a flan tray with oil and place the dough between two sheets of parchment paper. Roll the dough out into a circle. Work quickly as the dough may be flaky. Place the dough into the flan dish.  Don't worry if the dough breaks – just arrange round the dish.
Prick the dough with a fork and bake the crust for 10 minutes in the oven.
Pour in the hazelnut and radicchio filling on top of the dough. (Note the photo is an illustration just for effect - but if you do it that way, ensure that the radicchio is basted with oil before returning to the oven).
Return to the oven for about 20 minutes.
Serve with salad.