Steamed baked pillowy sorghum rice rolled pastry layered with sweet treacly burst fruit preserve; Jam Roly-Poly.
Yield to the lure of your loins. And, ingest some in something smooth and round.
This will annihilate your belief that vegan food can't be this super mouth-watering.
Make this:
When you're feeling nostalgic for school dinners. You've opened the year book and wished you were somehow back there
When you've read your latest novel. And, to quench your appetite as you turn the pages, you need a little treat
When you've Sunday dinner to prep. A quick douse of this Roly-Poly in the oven. And, then it's time to get the Rugby on
Jam Roly-Poly was inspired when reminiscing about school dinners with my flatmate. He'd never had. This traditional British dish is a fav and great to cook on a lazy Sunday afternoon.
This sweet dish is vegan and gluten-free, and British cuisine.
What equipment to use
For this dish, I suggest:
High-speed blender
Stove
Oven 
What to do next
Tag me on @ethiveganquantum on Instagram to show me what you've made and let me know you're happy for me to share.
My recipes are featured in vegan speciality publications: Nourished, Vegan Life, Plant Based and Vegan, Food and Living.
Order my first self-published book, "Essence: The Beginner's Guide to Veganism" part of the three-part Circle of Food series. My second book "Presence: The Ascending Vegan" – which explores how to maintain a vegan practice is out in 2027 – I have compiled all the chapters including recipes.
Going strong since 2013.
Love.
Edward x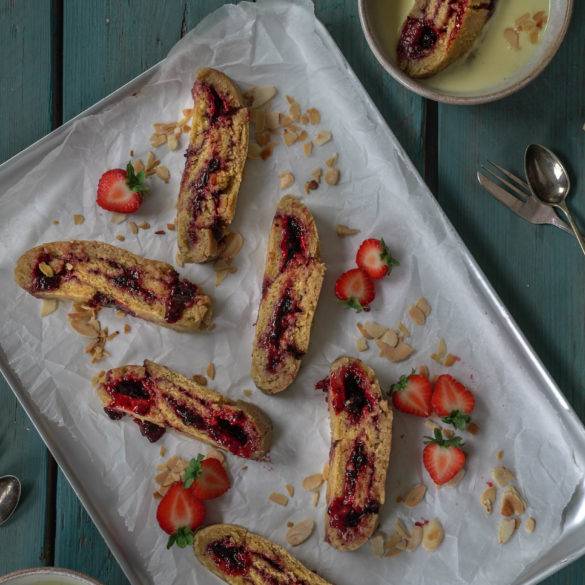 Ingredients
Pastry

150g sorghum

150g sweet rice flour

40g oats

40g flaxseeds

60g tapioca flour

1tsp dried yeast

235ml filtered water

50g unrefined cane sugar

4tbs olive oil

10g coconut oil

1tsp aluminium free baking powder

¼ tsp salt

Filling

Pinch of salt

350g jam

65g coconut oil
Instructions
Dissolve the yeast in water and sugar. Set to one side for 20 minutes.
Grind the oats and flaxseeds in a high-speed blender and transfer to a large mixing bowl with the sorghum, sweet rice and tapioca flours, baking powder and salt. Combine with a spatula.
Pour over the yeast mixture into the mixing bowl. Form and knead into a dough. Pour over the olive and coconut oils. Cover with a dishcloth and set to one side for about a couple of hours.
Line a baking tray with parchment paper.
Place dough between 2 large pieces of parchment paper. Using a rolling pin, roll into a rectangle of at least around 40cm by 30cm. It should be no wider than the large baking tray use will need.
Half fill the
Melt the coconut oil if hard to soften or if at room temperature, mix with the jam. Use a spatula to spread over the dough. Leave about half an inch on the sides.
Use the parchment paper to help you slide the dough over to form a circle. Carefully transfer the roly-poly onto aluminium foil. Baste with olive oil. Wrap the foil round leaving a gap at the top.
Leave to rise in a warm place for about an hour or two until they have risen. Baste with oil. If you want them for the following morning – just refrigerate in a sealed container and rise first thing in the morning, in a warm place.
Preheat the oven to gas mark 180 degrees Celsius, or if a convection oven to 160 degrees Celsius.
Boil a kettle and pour outside the foil. Make sure the water does not directly touch the roly-poly. The steam will help get the pastry moist.
Bake the roly-poly for about 45 minutes.
Serve the warm with custard.