Jerusalem Artichoke and Pear Casserole is one those hearty casseroles. I love the subtle tastes of the artichokes melded with sweetness of the data and prunes. This dish simply involves putting all the ingredients into a casserole and allowing the juices to come together.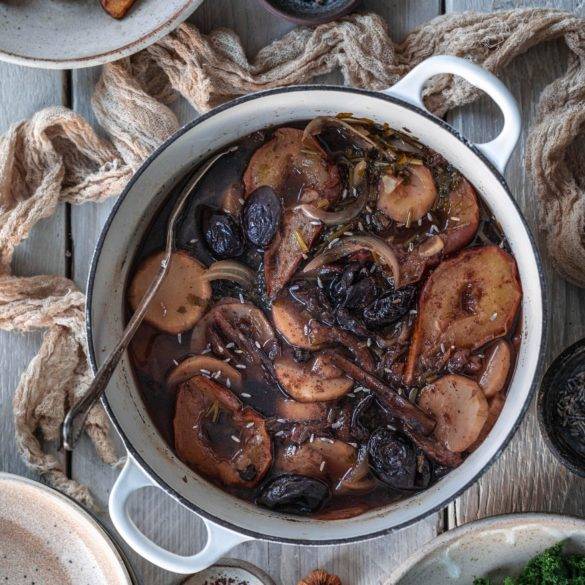 Ingredients
400g Jerusalem Artichokes, skinned
600ml stock (made from a potato and a stick of celery)
10g oats
2 pears, sliced and cored
1 onion, sliced
100g dates, destoned and sliced
50g prunes, dried
1tsp sumac
1tsp lavender
Few sprigs of parsley
Instructions
Preheat oven to gas mark 180 degrees Celsius or if you have a convention oven to 160 degrees Celsius.
In a blender, whizz the stock with oats.
Place the stock into a large lidded casserole dish. Add in the remaining ingredients.
Cover and bake in the oven for an hour.
Serve warm.
Notes
By Edward Daniel, Vegan Chef and Former Chair of The Vegan Society. Contributor to Vegan Life Magazine, Plant Based Magazine, Vegan Food and Living Magazine and OK! Magazine. Speaker and cooking demonstrator at Vegan Life Life Festival London, Mind Body and Spirit Festival London, Veganes Sommerfest Berlin, and Bali Vegan Festival. Author of "Essence: The Beginner's Guide to Veganism".