Jerusalem Artichoke and Pear Casserole is one those hearty casseroles. I love the subtle tastes of the artichokes melded with sweetness of the data and prunes. This dish simply involves putting all the ingredients into a casserole and allowing the juices to come together.
What to do next
Tag me on @ethiveganquantum on Instagram to show me what you've made and let me know you're happy for me to share.
My recipes are featured in vegan speciality publications: Nourished, Vegan Life, Plant Based and Vegan, Food and Living.
Order my first self-published book, "Essence: The Beginner's Guide to Veganism" part of the three-part Circle of Food series. My second book "Presence: The Ascending Vegan" – which explores how to maintain a vegan practice is out in 2027 – I have compiled all the chapters including recipes.
Going strong since 2013.
Love.
Edward x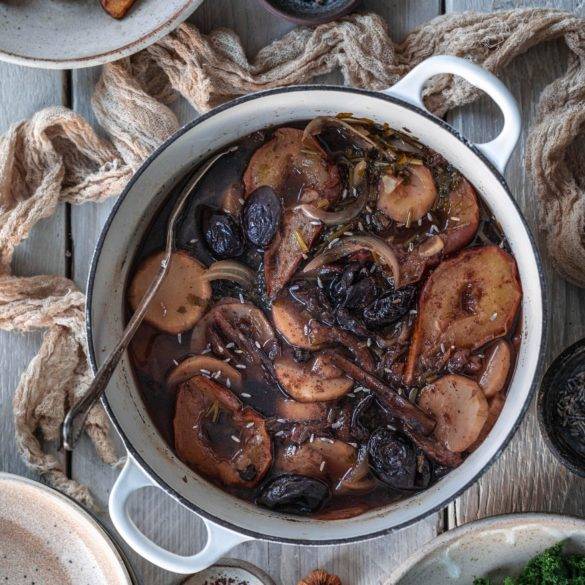 Ingredients
400g Jerusalem Artichokes, skinned
600ml stock (made from a potato and a stick of celery)
10g oats
2 pears, sliced and cored
1 onion, sliced
100g dates, destoned and sliced
50g prunes, dried
1tsp sumac
1tsp lavender
Few sprigs of parsley
Instructions
Preheat oven to gas mark 180 degrees Celsius or if you have a convention oven to 160 degrees Celsius.
In a blender, whizz the stock with oats.
Place the stock into a large lidded casserole dish. Add in the remaining ingredients.
Cover and bake in the oven for an hour.
Serve warm.