As you probably would have guessed by now, I prefer to keep the cooking of vegetable to a minimum. For me this helps retain the flavour. The kohlrabi can be eaten raw and here I just want it to be mildly sautéed so that it retains its crunchiness and spiciness.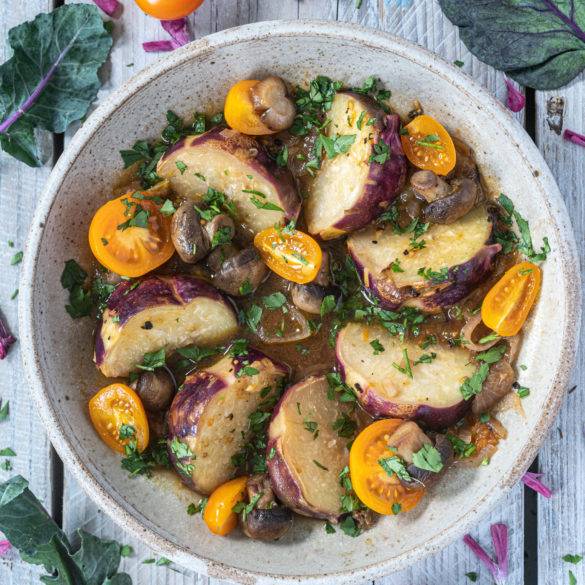 Ingredients
1 kohlrabi
2 shallots, diced
100g small button mushrooms
2tsb extra virgin olive oil
200ml white wine
1tbs brandy
200g wild tomatoes
small bunch parsley
kohlrabi leaves for garnishing
Instructions
Depending on your taste, you can eat the leaves of the kohlrabi. Deleaf if desired and cut the stems into strip. Cut away the hard bit of the base and cut the kohlrabi into eight quarters. Set the stalks to one side.
In a saucepan add the kohlrabi quarters, button mushrooms and shallots and sauté in olive oil until kohlrabi starts to turn brown – this be no longer than 10 minutes.
Add half the wild tomatoes with white wine, brandy and the kohlrabi stalk. Continue cooking for a further 10 minutes. Season to taste.
Transfer the kohlrabi chasseur to a serving dish. Toss in the remaining tomatoes and some parsley. Garnish with the remaining kohlrabi leaves and parsley.
Serve.
Notes
By Edward Daniel, Vegan Chef and Former Chair of The Vegan Society. Contributor to Vegan Life Magazine, Plant Based Magazine, Vegan Food and Living Magazine and OK! Magazine. Speaker and cooking demonstrator at Vegan Life Life Festival London, Mind Body and Spirit Festival London, Veganes Sommerfest Berlin, and Bali Vegan Festival. Author of "Essence: The Beginner's Guide to Veganism".