Mouth-watering juicy Tarte aux Fruits laden with strawberries, raspberries and blackberry, vanilla custard on an amaranth pastry bed.
Tease your loins with untainted daintiness.
This dish will eradicate any belief that vegan food can't be delish.
Make this:
When you're dying to get your tastebuds ignited before a night of passion
When you've got a flick to watch with a complementary dish to satiate your hunger pangs
When you've got a dinner party to organise and need a rapid dish that doesn't need much brain power
Tarte aux Fruits was inspired when I had a couple of friends over for dinner.  Custard with summer berries on pastry sounded like the perfect combo to end an evening of chit chat.
This Tarte is a vegan dessert and gluten-free.
What equipment to use 
For this recipe, I suggest:
High speed blender
Oven
What to do next
Tag me on @ethiveganquantum on Instagram to show me what you've made and let me know you're happy for me to share.
My recipes are featured in vegan speciality publications: Nourished, Vegan Life, Plant Based and Vegan, Food and Living.
Order my first self-published book, "Essence: The Beginner's Guide to Veganism" part of the three-part Circle of Food series. My second book "Presence: The Ascending Vegan" – which explores how to maintain a vegan practice is out in 2027 – I have compiled all the chapters including recipes.
Going strong since 2013.
Love.
Edward x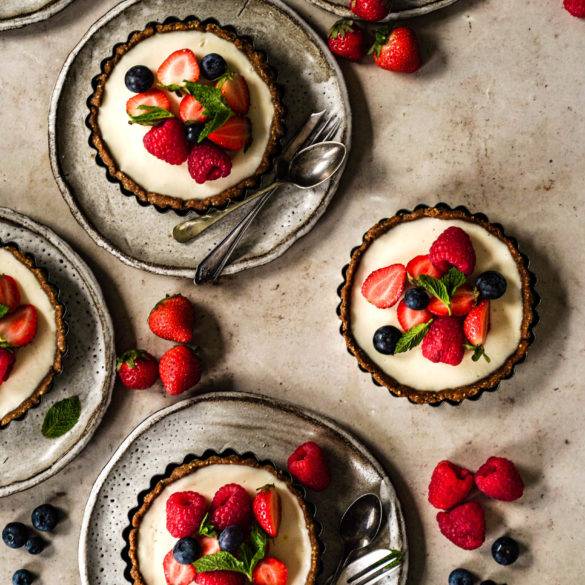 Ingredients
For filling

100g almonds, blanched

500ml water

50g icing sugar

250g summer fruits – raspberry and strawberries

½ lemon, juice

1tsp vanilla extract

1tsp agar agar

Pastry

Dry ingredients

100g amaranth seeds

50g oats

25g flaxseeds

25g unrefined cane sugar

Pinch of salt

75g tapioca flour

Wet ingredients

30g prune puree

8tbs filtered water

40g coconut oil
Instructions
Make the pastry by placing the dry ingredients (not tapioca flour) into a high-speed blender and blending till fine. Transfer to a large mixing bowl add in the tapioca flour.
Toss in the prune puree and mix with hands. Next add the water. Continue using the hands. Then add the oil and knead into a bowl. Cover and leave the dough to rest in the fridge for about 30 minutes.
Pour in the oil and water. Knead into a dough and set aside for 10 minutes.
Pre-heat the oven to gas mark 180 degrees Celsius or if a convection oven to 160 degrees Celsius.
Weigh the dough and divide the dough into 6 for 5-inch tart tins or alternatively, small tart tins. Line tartlets with olive oil.  Place the dough between two pieces of parchment paper and roll into a circle.  Shape the dough into the tart tin.  Fork the dough.
Bake in the oven for about 20 minutes until the crust turns into a light golden colour.
Remove from heat and set to one side.
In a food processing place the blanched almonds, water and saffron threads and whizz until it forms a cream.
Pour the cream into a large saucepan with icing sugar and agar agar. Heat over a light heat and gently stir until it starts to thicken.
Gently remove the flan base from the tray and place on a serving dish.
Pour the cream mixture to the flan base. Litter the summer fruits evenly on top and place the Tart aux fruits in the refrigerator for about an hour or two until it sets.
Serve chilled.