Raw Butternut Squash Dessert reminds me of my parents traditional Indian cooking. Spices really lift the flavour of sweets and the turmeric, cumin and cardamon really make this dish appetizing. This really makes a wonderful lavish dessert to round off a dinner party with guests. Yet, it is surprisingly simple to put together.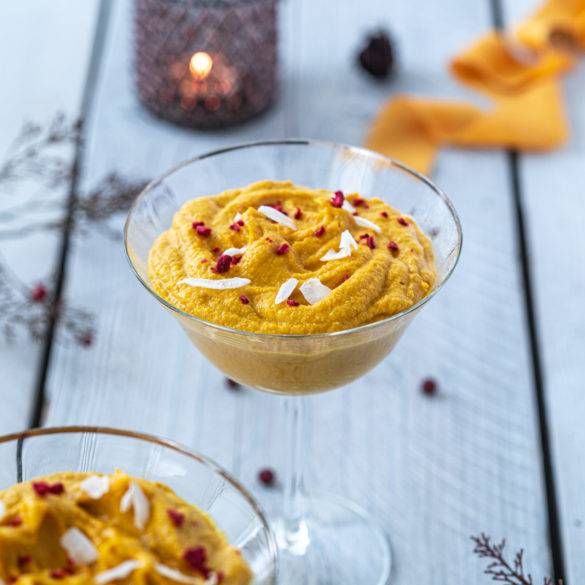 Ingredients
400g butternut squash
30g oats
200ml filtered water
pinch of turmeric powder
pinch of cumin powder
2 cardamon pods, seeds
50g cashews
100g dates
50g coconut flakes
coconut flakes for garnishing
Instructions
Blitz the oats in a high-speed blender with the cardamon seeds until fine.
Peel and deseed the butternut squash and place in the blender with the water, remaining spices and dates. Whizz to a fine consistency. Set to one side in the fridge for a couple of hours.
In a chopper, roughly chop cashews and coconut flakes. Set to one side.
When ready to serve, combine the ingredients and transfer to serving dish or bowls. Garnish with coconut flakes or anything that takes your fancy and serve.