Slow cooked fleshy Kolokasi in a tomato sauce with red onion, coriander seed and oregano topped with celery and a splash of lime juice; Kolokasi Celery Stew.
Dribble over some textured plant flesh. And, scoff.
This dish will topple any believe that vegan food can't be super easy to make.
Make this:
When you've got Uncle Sam over for dinner and need a fleshy dish that'll get him all buzzed up
When you're running ragged from a day of shopping and need a simple dish you can leave to one side to cook as you try on your new wear
When you need something fresh and lubricating and a unique dish that'll get you excited is within your grasp
Kolokasi Celery Stew was inspired when a Cypriot Chef visited revealing this Cypriot root vegetable.
Kolokasi softens to a consistency much like potato and is similar to yams and sweet potatoes. It has a conical shape and native to Cyprus and Greece. In its raw form, Kolokasi is harmful and so cooking until it softens to reduce levels of calcium oxalate.  It's also a good source of fibre and good for gut health.
I get my Kolokasi from a charming cosy Greek Cypriot Supermarket, called Michael's Fruiterers on Seven Sisters Road in Holloway. (Though, note it closes on Wednesdays).
Kolokasi Celery Stew is vegan and paleo.
What to do next
Tag me on @ethiveganquantum on Instagram to show me what you've made and let me know you're happy for me to share.
My recipes are featured in vegan speciality publications: Nourished, Vegan Life, Plant Based and Vegan, Food and Living.
Order my first self-published book, "Essence: The Beginner's Guide to Veganism" part of the three-part Circle of Food series. My second book "Presence: The Ascending Vegan" – which explores how to maintain a vegan practice is out in 2027 – I have compiled all the chapters including recipes.
Going strong since 2013.
Love.
Edward x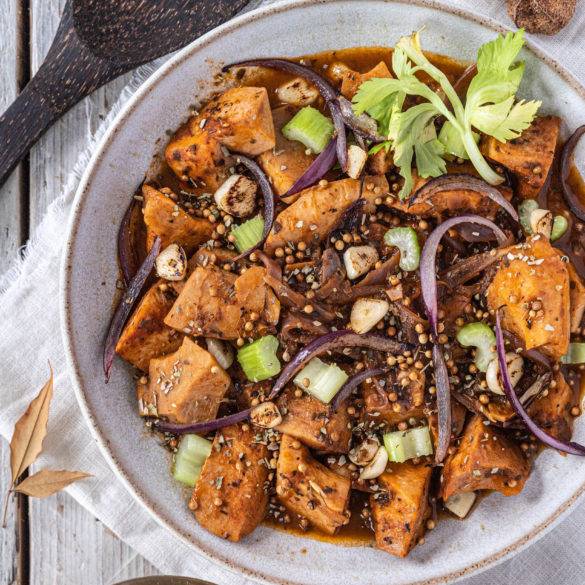 Ingredients
1 large Kolokasi

4tbs olive oil

1 red onion

1tbs coriander seeds

1tsp oregano, dried

2tbs tomato puree

750ml filtered water

½ bunch of celery

½ lime, juice
Instructions
There is a special way to prepare the Kolokasi. Peel the Kolokasi. Then hold it one hand, and press a knife into Kolokasi to crack small pieces. Avoid washing.
In a wok, sauté the Kolokasi in two tablespoons of olive oil until the Kokokasi turns a golden-brown colour. Set to one side.
Using the same wok, sauté the onion and coriander seeds in a couple of tablespoons of olive oil. Add in the oregano, tomato and return the Kolokasi. Coat the Kolosaki.
Add in the water. Bring to boil and simmer at a low heat for about an hour. The sauce should thicken. The Kolokasi should be easy to cut through, much like a potato.  5 minutes before the end stir in the celery.
Switch off the heat and drizzle in the lime, juice.
Season to taste.
Serve with rice or beans.