Slender, disk shaped unleavened flatbread pancakes made from finely ground maize (corn) fried to perfection; Tortilla.
Nab something soft and supple and savour every bite. And, nibble.
Tortilla will topple any believe that vegan food can't be simple to make.
Make this:
When you've got a party organised and need some flatbreads to go with your dips
When you've a Mexican evening and tortillas to go with your dishes is just the treat
When Uncle Tom has a barbeque organised and you've been asked for a contribution, and some freshly made tortilla will polish off the event
Tortilla was inspired by melancholy of attending Mexican restaurants with friends; recreating a little outside experience.
Tortilla is traditionally made with maize flour – indeed it was a staple food of the Aztecs who occupied Mesoamerica and dates back for 10,000 years BC. Though, nowadays it is made with wheat flour and a South Asian version of the "chapati".  Though, this dish heralds maize.
Here yellow corn tortilla provides a good source of beta carotene, a potent antioxidant benefiting healthy skin, protecting vision and improving respiratory health.
I purchase my maize flour from a quaint Mexican supermarket near Warren Street in London, called Mestizo Market which can be found here.
Tortilla is vegan and gluten-free.
What to do next
Tag me on @ethiveganquantum on Instagram to show me what you've made and let me know you're happy for me to share.
My recipes are featured in vegan speciality publications: Nourished, Vegan Life, Plant Based and Vegan, Food and Living.
Order my first self-published book, "Essence: The Beginner's Guide to Veganism" part of the three-part Circle of Food series. My second book "Presence: The Ascending Vegan" – which explores how to maintain a vegan practice is out in 2027 – I have compiled all the chapters including recipes.
Going strong since 2013.
Love.
Edward x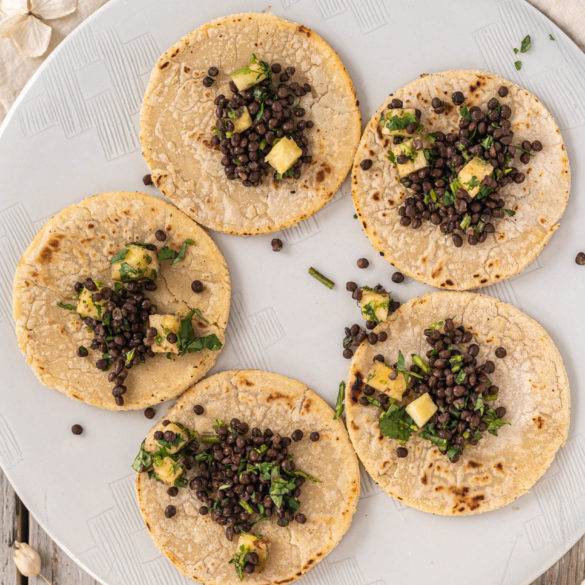 Ingredients
200g maize flour

¼ tsp baking soda

Pinch of salt

145ml filtered water, hot

1tbs lemon juice

1tbs coconut oil, melted

Olive oil for frying
Instructions
In a large mixing bowl, mix the maize flour, baking soda with the salt.
Add in the lemon juice and oil.
Pour in the filtered water and use your hands to knead into a dough.
Cover with clingfilm and set to one side for about 20 to 30 minutes.
Divide the dough into about 8 pieces and roll into balls. If the dough is too flaxy add a drop or two of water – but do not overwater as it will affect the rolling and consistency. It shouldn't be flaky and not too soft.
Either use a tortilla press or place between two sheets of baking paper and use a rolling pin. Use a 5-inch ring to cut round (I use the bottom of a pastry lid).  You can use 7-inch and make about 4/5 but I prefer smaller bite sized.
Heat up a skillet. Add in the tortilla. A minute later pour in about a teaspoon of olive oil. And toss over and add olive oil.  The tortilla should turn a light-yellow colour and as it browns, it cooks.  Place on a plate and repeat.
Immediately serve with dips or a nice chilli.