Koupes; umami mushroom, kalamata olives, onions, garlic, parsley and pine nuts encased in a bulgur wheat polenta pastry.
Slide your tongue into something moist and lush. And, breath.
This dish will eradicate any belief that vegan food can't be super scrumptious.
Make this:
When you've thrown out the buggy, pram and the kitchen sink out. It's your annual spring clean detox. And, all that remains is celebrating with a tasty morsel that'll cleanse your soul
When you've got a case of relatives visiting sequentially. And, a dish that'll keep them at bay at all the intrusive questioning will provide a slither of relief
When a party celebration calls for an exquisite savoury dish that'll get the dancing and plate throwing going
Koupes was inspired when I'd had a vegan Greek Cypriot chef over for a few days and we created concoctions of delicious insatiable yummy food.
This dish is a vegan air fryer dish and Greek/Cypriot cuisine.
What equipment to use
For this recipe, I suggest:
Airfryer
High speed blender
Stove
What to do next
Tag me on @ethiveganquantum on Instagram to show me what you've made and let me know you're happy for me to share.
My recipes are featured in vegan speciality publications: Nourished, Vegan Life, Plant Based and Vegan, Food and Living.
Order my first self-published book, "Essence: The Beginner's Guide to Veganism" part of the three-part Circle of Food series. My second book "Presence: The Ascending Vegan" – which explores how to maintain a vegan practice is out in 2027 – I have compiled all the chapters including recipes.
Going strong since 2013.
Love.
Edward x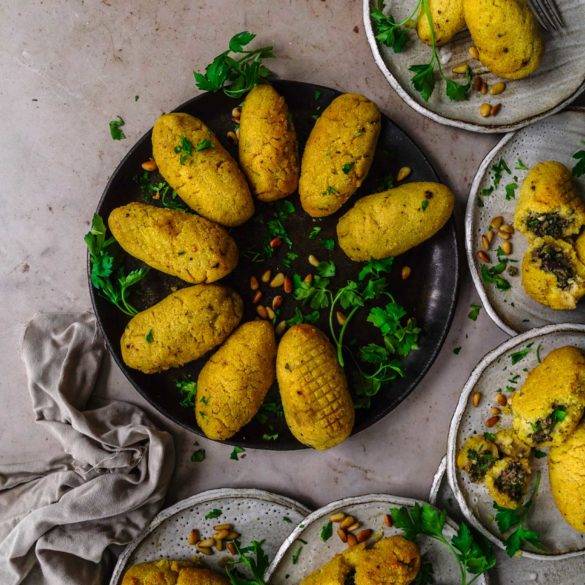 Ingredients
For casing

500g bulgur wheat, finely ground

75g polenta

3tbs olive oil

1200ml boiling filtered water

2tsp salt

1/2tsp black pepper

For filling

400g mushrooms, finely chopped

1 onion, finely chopped

2tbs olive oil

Few sprigs of parsley, finely chopped

2 cloves of garlic, minced

10 kalamata olives, chopped finely

2tbs pine nuts, chopped (optional)

1/2tsp cinnamon

Season to taste

Olive oil for air frying

Bowl with water to wet hands in

Lemon
Instructions
Grind the dried bulgur wheat in a high-speed blender until fine and transfer to a large bowl with the polenta, salt and pepper. Mix well with a spatula.
Pour over boiling water and oil. Mix, cover and set to one side overnight.
In a large wok, sweat the onions and mushrooms in oil over a medium heat, until the mushrooms reduce in size. This should take about 10 minutes.
Toss in the parsley. Once the parsley wilts, switch off the heat. Add in the garlics, olives, pine nuts and cinnamon. Mix well. Season to taste. Set to one side.
Have on the side a bowl of water at room temperature.
Line a tray with parchment paper.
Take a portion of the pastry and shape it around to encase your thumb. You should be forming a long cylinder with a middle cavity. Place onto the tray. Use the side bowl with water to assist you. Repeat this action until your use most of the pastry.
Take a small spoon and using the end of it scoop the mushroom parsley mixture into the crevice. Cover the pastry over the hole – use any pastry left over to seal the crevice.
Using a pastry brush, slather oil, all over the Koupes. Refrigerate for a couple of hours.
Air fry the Koupes for 15 minutes.
Serve piping hot with lashings of lemon juice.