Caramelised umami seared Lion's Mane baked in an allspice, paprika, cinnamon, Star Anise, ginger marinade; Seared Lion's Mane Steak.
Tantalise your tastebuds with pure exquisiteness. And, tuck into something meaty.
This dish will obliterate your belief that vegan food can't be this super yummy.
Make this:
When you fancy something fleshy as settle down for a nice Sunday lunch
When you've got a barbeque to organise and need a lush dish that'll have your guests hammering down your front door for the recipe
When the summer is sizzling and you need a hearty dish to go with the cold beer you've got refrigerated
Seared Lion's Mane Steak was inspired when I found this beautiful mushroom at the local farmer's market one Sunday morning. I had been looking at various ways to purchase this and will probably see if I can find a suitable supplier.
Lion's Mane has a juicy meaty texture.
This savoury dish is vegan and paleo.
What equipment to use
For this recipe, I suggest:
2 cast iron skillets
Oven
What to do next
Tag me on @ethiveganquantum on Instagram to show me what you've made and let me know you're happy for me to share.
My recipes are featured in vegan speciality publications: Nourished, Vegan Life, Plant Based and Vegan, Food and Living.
Order my first self-published book, "Essence: The Beginner's Guide to Veganism" part of the three-part Circle of Food series. My second book "Presence: The Ascending Vegan" – which explores how to maintain a vegan practice is out in 2027 – I have compiled all the chapters including recipes.
Going strong since 2013.
Love.
Edward x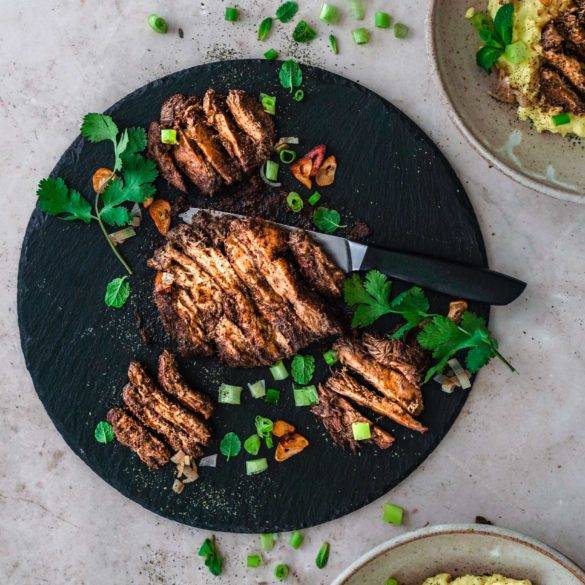 Ingredients
450g Lion's Mane

6tsb olive oil

1 small cinnamon stick

1 Star anise

1tsp allspice

1tsp sweet paprika

1tbs garlic powder

1tbs onion powder

1/2 tsp ginger powder

1tsp dried mint

1tsp unrefined cane sugar

1/2tsp salt

100ml filtered water

Garnish

4 cloves of garlic, sliced

1 shallot

2 tbs olive oil

2 spring onions

Few sprigs of mint leaves

Few springs of coriander leaves
Instructions
Heat a cast iron skillet. Drizzle and heat some oil over a medium heat.  Sear the Lion's Mane. Use a back of another cast iron skillet or spatula to press down onto the mushroom to release juices.  Heat for about three to four minutes on either side.  Remove and place into a baking dish. Repeat until all the mushroom steaks have been seared. There should be some juices in the skillet.
Pour water into the skilled to round up any juices to form a gravy. Scape any mushrooms remnants on the base of the skillet. This will take a couple of minutes. Transfer to a mixing bowl.
Use a grinder to grind the Star Anise, allspice and cinnamon and sugar. Transfer to the mixing bowl with the paprika, garlic, onion, ginger, mint and salt to form a marinade. Mix well.
Pour the marinade over the Lion's Mane and coat both sides. Cover the dish with cling film and leave to marinade for at least a couple of hours and even overnight.
Preheat oven to 180 degrees Celsius or if a convection oven to 160 degrees Celsius.
Cover the dish with aluminium foil (having removed the cling film), and bake for 25 minutes.
Prepare garnish by sauteing the shallots and garlic in olive oil for a couple of minutes. Garnish with mint and coriander.
Serve warm.