Salsify with Pomegranate Mignonette; crunchy oyster-like salsify with pomegranates, pepper, sherry vinegar, shallots and cracked black pepper.
Get yourself hither. And, rasp you sexy….. [expletives not for the faint of heart, obviously].
This dish will obliterate your belief that vegan food can't be super yummy.
Make this:
When you want to dazzle guests at a party you're hosting. Some exquisite hors d'oeuvres that'll satiate their famished faint-hearted appetites will go down a treat
When you've gushed open the bolly and fancy an exquisite entrée as you frenetically glug into pure erotic ecstasy
When you fancy a long lounge in the bath and a little side indulgence will have you blowing bubbles
Salsify with Pomegranate Mignonette aka vegan oysters was inspired when menu preparing for a restaurant seeking new and novel dishes. I'd been thinking of special ideas to make an event that'd have critics putting quill to keyboard.
Salsify with its delicate attractive textures, reminiscent of a poor man's Oysters touches the sides. Infused with the right condiments, its tastes transcend boundaries of lushness.
This savoury dish is vegan seafood, raw and paleo.
What equipment to use
For this recipe, I suggest:
There isn't any for this one – (other than making the raw crackers; I use dehydrator for those).
What to do next
Tag me on @ethiveganquantum on Instagram to show me what you've made and let me know you're happy for me to share.
My recipes are featured in vegan speciality publications: Nourished, Vegan Life, Plant Based and Vegan, Food and Living.
Order my first self-published book, "Essence: The Beginner's Guide to Veganism" part of the three-part Circle of Food series. My second book "Presence: The Ascending Vegan" – which explores how to maintain a vegan practice is out in 2027 – I have compiled all the chapters including recipes.
Going strong since 2013.
Love.
Edward x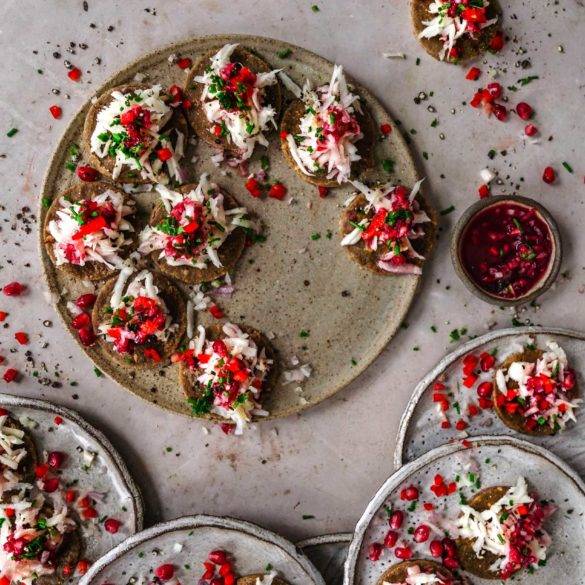 Ingredients
½ lemon, juice

250g Salsify

½ pomegranate

½ pepper, diced finely

1 shallot, chopped finely

1tbs sherry vinegar

Cracked pepper

Crackers to serve

Garnishing

Chives, chopped finely
Instructions
Squeeze half a lemon and place in a bowl with filtered water.
Peel and wash the salsify. Discard any leaves. Place in the salsify in the lemon water. Repeat until all the salsify are in the bowl. You may need to cut in two.
Grate the salsify and return to the lemon water. Set to one side.
Make the mignonette by pulsing the half of the (half) pomegranate in a chopper for a few seconds only. Transfer to a bowl.
Thinly dice pepper and add half to the bowl. Repeat action with the shallot.
Pour in the sherry vinegar into the mignonette.
Lay crackers on a tray. Using your hands lays a few strands of salsify onto each cracker. (Discard the lemon water when all done). Toss on the remaining pomegranates, pepper and shallots. Don't worry about it being messy.
Grind over some cracked peppers.
Garnish with lashings of chives.
Serve.