Pillowy moist citrus Lemon Cake with aniseed Star Anise, nutty almonds, polenta, millet and lemon juice and zest.
Tuck into something soft and scrumptious. And, lay back.
This dish will topple your belief that vegan food can't be super scrumptious.
Make this:
When you've got games night with the lads and a sneaky dessert in between will entice them to let you win
When you've been trekking your local countryside and a lavish Lemon Cake will hit the spot as you tumble into your huge armchair
When you're in need a scrummy cake that will have your kiddies smiling cheek to cheek and behaving, just for a second though
Lemon Cake was inspired when my nephew and niece were misbehaving and a cake to distract them as I was entertaining them turned out to be a handy break.
This Cake I love because of the combination of lemon, star anise and almonds. I use a cashew icing but any icing will do.  This Lemon Cake is moist and lush and perfect for afternoon tea.
This Cake is vegan and gluten-free.
Where I get my ingredients from
Blanched almonds, I purchase from a nifty Asian outlet in Hayes.  It has an online presence too which can be found here – I love it because it is reasonably priced and tends to be good quality stuff which I use.
What equipment to use
For this recipe, I suggest:
High-speed blender
Oven
What to do next
Tag me on @ethiveganquantum on Instagram to show me what you've made and let me know you're happy for me to share.
My recipes are featured in vegan speciality publications: Nourished, Vegan Life, Plant Based and Vegan, Food and Living.
Order my first self-published book, "Essence: The Beginner's Guide to Veganism" part of the three-part Circle of Food series. My second book "Presence: The Ascending Vegan" – which explores how to maintain a vegan practice is out in 2027 – I have compiled all the chapters including recipes.
Going strong since 2013.
Love.
Edward x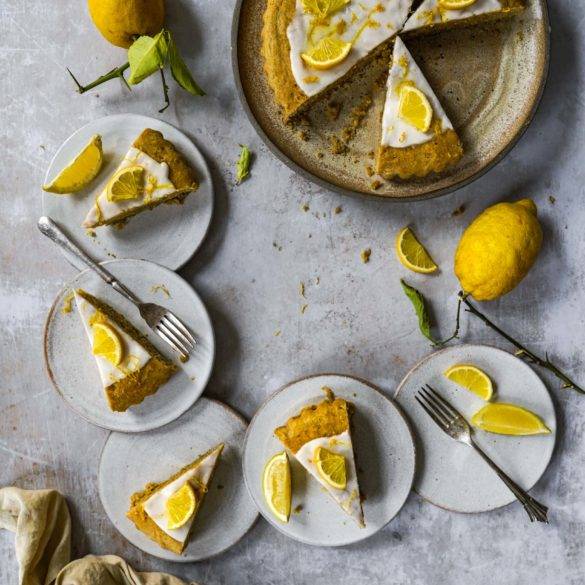 Ingredients
2 large lemons

100g almonds, blanched ground

100g polenta

100g millet

75g unrefined cane sugar

1 Star anise

1tsp baking soda

Pinch of salt

100ml olive oil

Zest of lemon
Instructions
Place the lemons in a sauce pan full of water so that the lemons are submerged. Bring to the boil and, boil for about 30 minutes. Once cool, remove the skin. Set to one side.
Pre-heat the oven to gas mark 180 degrees Celsius or if you have a fan oven 160 degrees Celsius.
Line small cake tins with olive oil and set to one side.
In a food processor, grind the polenta, millet, sugar, and Star anise. Place in a large mixing bowl with the baking soda and salt.  Set to one side.
Place the lemons in a food processor. Add these ingredients to the dry.  Give only a quick combination.
Add in the oil and zest. Give another quick combine.
Dish into the small cake tins.
Bake in the oven for about 20 minutes. A skewer should be able to run through.
Remove from heat and set to one side until cool.
Serve with icing of your choice.