Carrot Top Pesto makes wonderful use of carrot tops often discarded. Nutritious and fibrous, these tops enhanced by the lemon and orange juices provide a suitable alternative to basil pesto.  I love the sunflower seeds that complement the tops in this Carrot Top Pesto.
What to do next
Tag me on @ethiveganquantum on Instagram to show me what you've made and let me know you're happy for me to share.
My recipes are featured in vegan speciality publications: Nourished, Vegan Life, Plant Based and Vegan, Food and Living.
Order my first self-published book, "Essence: The Beginner's Guide to Veganism" part of the three-part Circle of Food series. My second book "Presence: The Ascending Vegan" – which explores how to maintain a vegan practice is out in 2027 – I have compiled all the chapters including recipes.
Going strong since 2013.
Love.
Edward x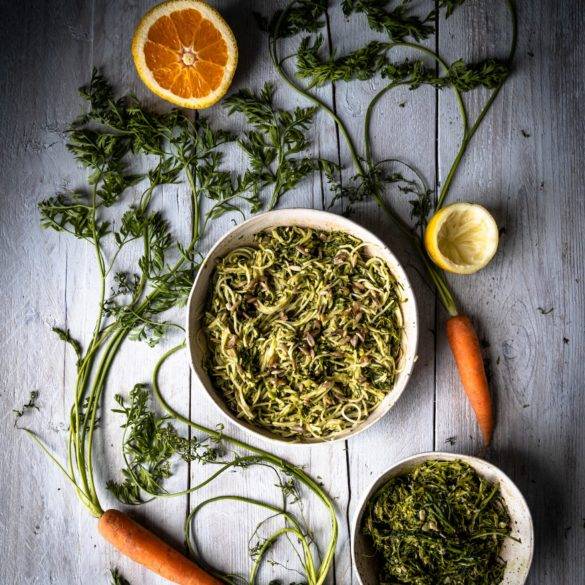 Ingredients
50g sunflower seeds
80ml olive oil
150g carrot tops
50mil water
½ lemon, juice
¼ orange, juice
Pinch of salt
10g nutritional yeast
Instructions
Soak the carrot tops in filtered water and set to one side.
Soak the sunflower seeds in filtered water for at least half an hour.
Pre-heat the oven to gas mark 180 degrees Celsius or if you have a fan oven 160 degrees Celsius.
Drain the sunflower seeds and place in a baking tray. Drizzle over a couple of tablespoons of oil. Bake in the oven for about 15 minutes.
Drain the carrot tops and slice thinly the stalks and leaves. Place in a blender with the remaining oil, seeds, water, lemon and orange juice and salt. Pulse till well combined.
Garnish with nutritional yeast.
Serve with pasta.