Exotic tart citrus mango with sweet nutty baked butternut squash in vegetable stock; Mango Butternut Soup.
Add fuel to your fire. And, ignite your soul.
What's your favourite soup combo?
This dish will burst the belief that vegan food can't be super nutritious.
Make this:
When you fancy a prelude smooch with your belle/beau as you enjoy your 3rd date at home
When you've got an alfresco dinner party and have a rush of excitement as you leisurely dine at home
When you've just had a laidback summer's day and fancy a light highted dish as you ease into the evening
Mango Butternut Soup was inspired when I was first dating an beau years ago and wanted a little something special before we got down to something even more special.
Mango is indigenous to Southeast Asia and India.  It hods sacred force because Buddha meditated beneath a mango tree.
Butternut Squash is rich in dietary fibre, phytonutrients and antioxidants.
Mango Butternut Soup is vegan and paleo.
What equipment to use
For this recipe, I suggest:
Oven
Stove
High-speed blender
What to do next
Tag me on @ethiveganquantum on Instagram to show me what you've made and let me know you're happy for me to share.
My recipes are featured in vegan speciality publications: Nourished, Vegan Life, Plant Based and Vegan, Food and Living.
Order my first self-published book, "Essence: The Beginner's Guide to Veganism" part of the three-part Circle of Food series. My second book "Presence: The Ascending Vegan" – which explores how to maintain a vegan practice is out in 2027 – I have compiled all the chapters including recipes.
Going strong since 2013.
Love.
Edward x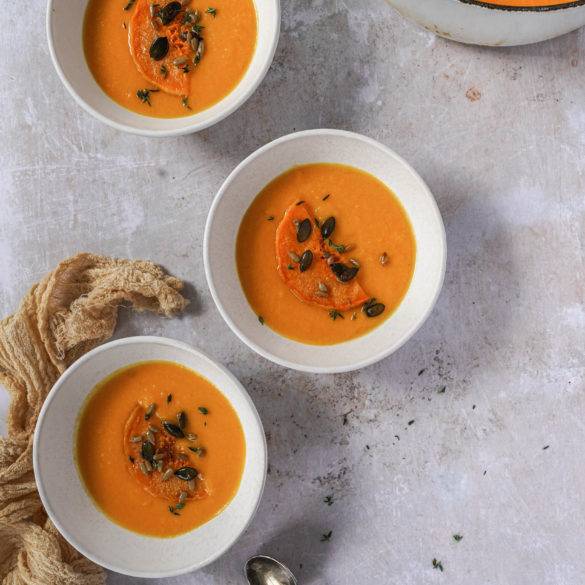 Ingredients
For roasting

medium butternut squash

2tsp olive oil for basting

For the soup

3 tbs olive oil

1 onion, diced

1 tomato

1 litre of vegetable stock (made with filtered water one carrot, one potato and one celery stick)

½ mango

Season to taste

Garnish

10g pumpkin seeds
Instructions
Make the vegetable stock by bringing to boil water with a carrot, potato and celery stick.  Simmer for about 15 minutes. Set to one side.
Preheat oven to 180 degrees Celsius or if a convection oven to 160 degrees Celsius.
Place the butternut squash in an ovenproof dish. Drizzle and baste over 2 teaspoons of olive oil over butternut squash.
Put the butternut squash into the oven and leave to cook for about 30 minutes. The butternut squash will have been adequately roasted when it blisters and turns a golden-brown colour. Set aside.
Roast pumpkin seeds in the oil for 10 minutes.
Once cool deskin and deseed the squash.
In a large pan, add three tablespoons of olive oil to the chopped onion. Sauté the onions until they soften and turn translucent. Turn off the heat.
Add in the squash to the onions with chopped tomato, vegetable stock and mango.
Whizz with a blender or place in batches in a liquidiser.
If you find the soup has cooled, return to the pan and gently reheat. Season to taste.
Serve.