Creamy heavenly velvety satin Chocolate Mousse with melted dark chocolate, coconut cream and airy aquafaba.
Put down everything you are doing. And, just focus on savouring each bite of this luxurious dessert.
This dish will obliterate your belief that vegan food can't be this phantastic.
Make this:
When you've just been hit hard with some really bad news. Don't lash out. Just open the cupboards. And, methodically focus on bringing this dish to life
When you've got a whole weekend to yourself.  And, salivating over some chocolate mousse in one hand while you flick through all the activities you want to participate in. Just achieve one activity to start with. And, the rest will come
When you're going all out for gold with a swanky dinner party. And, you need a cherubic dessert that will have you looking all angelic
Chocolate Mousse was inspired by wanting to create a vegan alternative. One that did not use eggs. Here I had been experimenting for my catering van business. I had fiddled around with different combinations and settled on this heavenly one.
Chocolate Mousse is one of my more decadent desserts and temperamental in nature.  For my chocolate mousse I tend to go for the organic non-sugar, non-salt chick pea brands. Drain the can and use the chick pea water aka aquafaba.
As a kick ass, creative voluptuous dessert, why not use Sponge Fingers as the base, with those fingers drenched in madeira wine. So, I will use about 2 Sponge Fingers for each serving drizzled with around 20ml madeira wine. I will then layer the mousse on top.  Check out my Sponge Finger recipe here.
Chocolate Mousse is vegan.
You can find
My Sponge Finger recipe here.
What equipment to use
For this recipe, I suggest:
Electric mixer
High speed blender
Stove
What to do next
Tag me on @ethiveganquantum on Instagram to show me what you've made and let me know you're happy for me to share.
My recipes are featured in vegan speciality publications: Nourished, Vegan Life, Plant Based and Vegan, Food and Living.
Order my first self-published book, "Essence: The Beginner's Guide to Veganism" part of the three-part Circle of Food series. My second book "Presence: The Ascending Vegan" – which explores how to maintain a vegan practice is out in 2027 – I have compiled all the chapters including recipes.
Going strong since 2013.
Love.
Edward x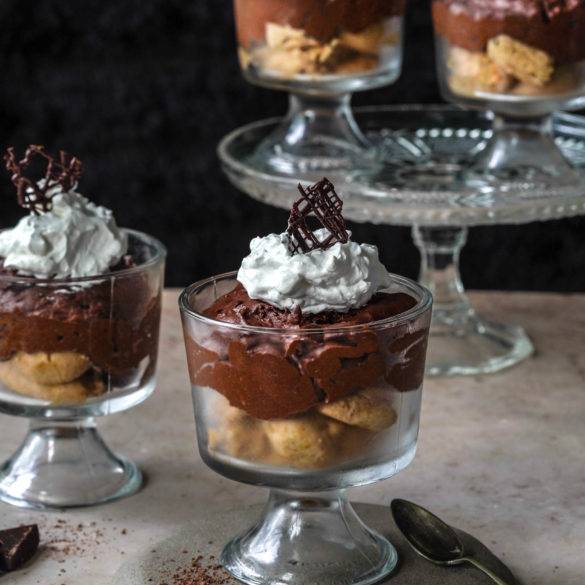 Ingredients
120ml aquafaba

1/2tsp vanilla extract

1tsp arrowroot

½ tsp xanthan gum

50g unrefined cane sugar

150g dark chocolate

200g coconut cream
Instructions
Place chocolate in a glass bowl over a saucepan with boiling water. Ensure the water does not touch the chocolate. Melt the chocolate. Use a spatula to help.
Pour in the coconut cream. And, form a thick chocolatey cream. Set to one side.
Using a mixer, whisk at medium speed the water until it goes fluffy. This will take around 5 minutes.  Pour in the vanilla extract.
Toss in the arrowroot and xanthan gum. Continue whizzing but increase the speed to high speed.  The mousse should turn into a lush white colour.
In a high-speed blender, grind the sugar until fine. Toss into the aquafaba. Whisk until you have white peaks.  Switch off.
Fold in the chocolatey cream, quarterly at a time. Use a spatula to assist.
Transfer the mousse to a serving bowl or into bowls and place in the fridge for about 30 minutes.
Serve chilled. Garnish with some chocolate flakes, if preferred.