Wild Mushroom Pate with shiitake, oyster and girolles mushrooms infused with warm scented cloves, garlic, sherry vinegar and citrus lemon.
Dip your toggle into something mild and moist. And, unwind.
This dish will have you buckle your belief that vegan food can't be super yummy.
Make this:
When you've just returned from the local farmer's market laden with wild mushrooms and a pate that'll have you beaming at the seams
When you've got a lark in the park and a pate as you lounge on your picnic rug
When you've just had a forage with the local guide overloaded with freshly picked mushrooms as you make your way through the foliage
Wild Mushroom Pate was inspired when foraging for wild mushrooms in West Forage one Autumn and making my way on train from London for an adventurous day out.
Wild Mushroom Pate is vegan, a condiment and paleo.
What equipment to use
For this recipe, I suggest:
Stove
Food processor
What to do next
Tag me on @ethiveganquantum on Instagram to show me what you've made and let me know you're happy for me to share.
My recipes are featured in vegan speciality publications: Nourished, Vegan Life, Plant Based and Vegan, Food and Living.
Order my first self-published book, "Essence: The Beginner's Guide to Veganism" part of the three-part Circle of Food series. My second book "Presence: The Ascending Vegan" – which explores how to maintain a vegan practice is out in 2027 – I have compiled all the chapters including recipes.
Going strong since 2013.
Love.
Edward x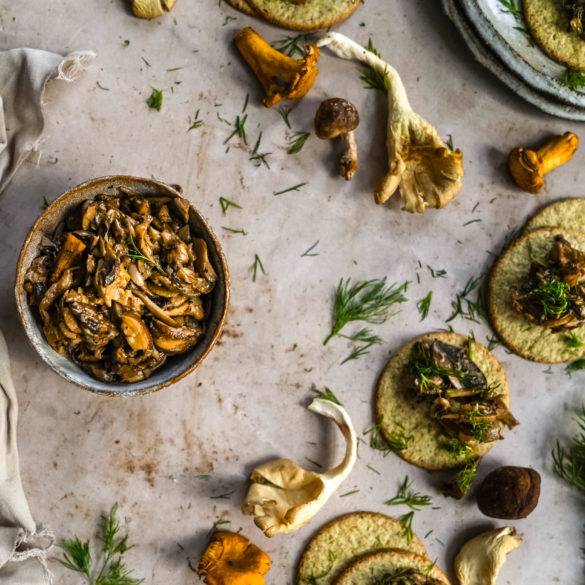 Ingredients
2tbs olive oil

2 shallots, chopped

2 cloves (of India)

4 gloves of garlic

200g wild mushrooms (shiitake, oyster, girolle and chanterelle)

200g chestnut mushrooms

2tbs sherry vinegar

½ lemon, juice

Season to taste
Instructions
Sauté the shallots with the cloves, garlic and mushroom in oil under a medium heat for about 10 minutes, until the shallots and mushrooms soften and reduce in size.
Switch off the heat and remove the cloves.
Place the mushroom mixture into a food processor. Roughly chop the mixture at the lowest setting.
Switch off the processor and add the vinegar and lemon juice and season to taste.
The pate is ready to serve.
Top tip – if you are not intending to serve straightway, place into a bowl with cling film on top ensuring no air gets to the pate – this way it will retain its freshness.