Maple and Pecan Granola; packed with oats pumpkin and sunflowers seeds, drizzled maple syrup and toasted pecans.
Wake up to something bright. And, shine.
This dish will burst any belief that vegan food can't be super yummy.
Make this:
When you've got your beau/belle overnight and need a lush brekkie dish that'll have you back in bed in no time for more
When you're rushing out the door in the morning and need a satisfying dish that'll have your day starting with a bang
When the sun's rising on a swanky morning and you've got a blazing day of busyness
Maple and Pecan Granola was inspired when a fellow vegan chef visited from the Far East and a lavish brekkie was just placated our hungry appetites as we spent a day ahead cooking new vegan delights.
Granola was developed by Dr. Jackson who came up with the idea of bringing together a healthy cold breakfast cereal.  Usually made with oats, nuts, seeds and dried fruits baked until crisp.
Maple and Pecan Granola makes a wonderful start to the day. Add some raspberries and redcurrants to snazz it up or eat it with some yoghurt. It saves on purchasing shop brought and you know what ingredients you have placed inside.
Maple and Pecan Granola is vegan and gluten-free.
What to do next
Tag me on @ethiveganquantum on Instagram to show me what you've made and let me know you're happy for me to share.
My recipes are featured in vegan speciality publications: Nourished, Vegan Life, Plant Based and Vegan, Food and Living.
Order my first self-published book, "Essence: The Beginner's Guide to Veganism" part of the three-part Circle of Food series. My second book "Presence: The Ascending Vegan" – which explores how to maintain a vegan practice is out in 2027 – I have compiled all the chapters including recipes.
Going strong since 2013.
Love.
Edward x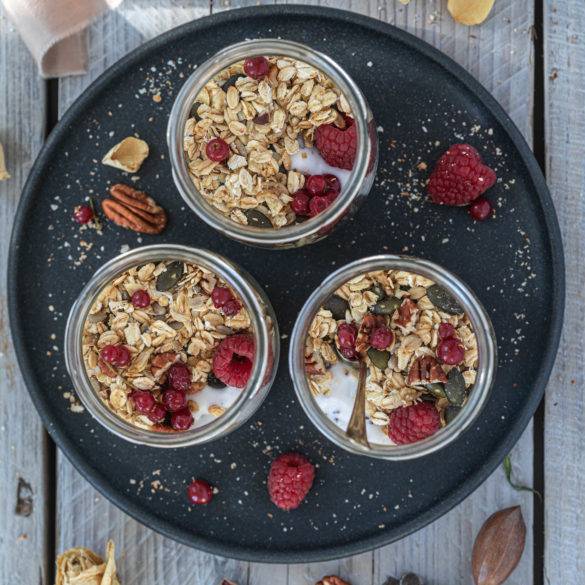 Ingredients
500g oats

50g pecans

50g pumpkin seeds

50g sunflower seeds

4tbs coconut oil, melted

5tbs maple syrup

Pinch of salt
Instructions
Soak the seeds in filtered water for about 8 hours. Drain and set aside.
Preheat oven to gas mark 180 degrees Celsius but to 160 degrees Celsius if you have a convention oven.
Place with the oats and seeds into a large baking tray. Swirl in the coconut oil.  Coat with maple syrup and salt. Combine well.
Bake in the oven for 20 minutes, half-way through give the granola a stir.
Roughly chop the pecans. Remove from granola from the heat and switch off the oven. Add the pecans and return to the oven and allow the oven to cool down.
Place in sterilised jars and keep sealed to retain the freshness.