Maple and Pecan Granola makes a wonderful start to the day. Add some raspberries and redcurrants to snazz it up or eat it with some yoghurt. It saves on purchasing shop brought and you know what ingredients you have placed inside.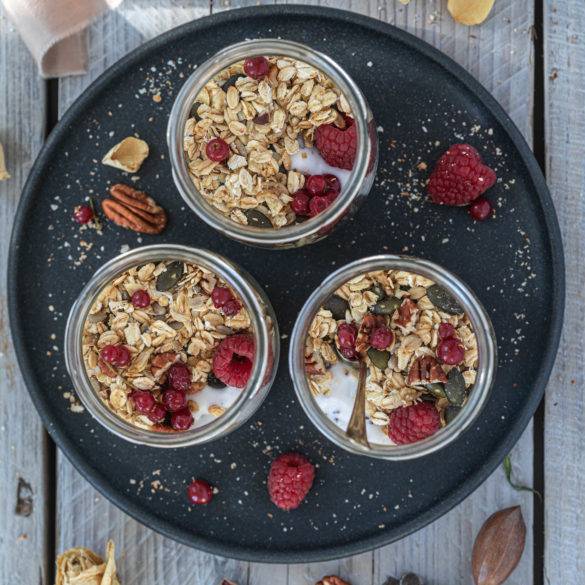 Ingredients
500g oats
50g pecans
50g pumpkin seeds
50g sunflower seeds
4tbs coconut oil, melted
5tbs maple syrup
Pinch of salt
Instructions
Soak the seeds in filtered water for about 8 hours. Drain and set aside.
Preheat oven to gas mark 180 degrees Celsius but to 160 degrees Celsius if you have a convention oven.
Place with the oats and seeds into a large baking tray. Swirl in the coconut oil.  Coat with maple syrup and salt. Combine well.
Bake in the oven for 20 minutes, half-way through give the granola a stir.
Roughly chop the pecans. Remove from granola from the heat and switch off the oven. Add the pecans and return to the oven and allow the oven to cool down.
Place in sterilised jars and keep sealed to retain the freshness.