Pineapple and Sweet Potato Rendang has this lush sweet and sour taste. What I love about this dish is how the hot chilli is tempered by the sweetness of the pineapple and caramalised sweet potato. The kombu and shiitake mushrooms gives this dish a umami flavoured.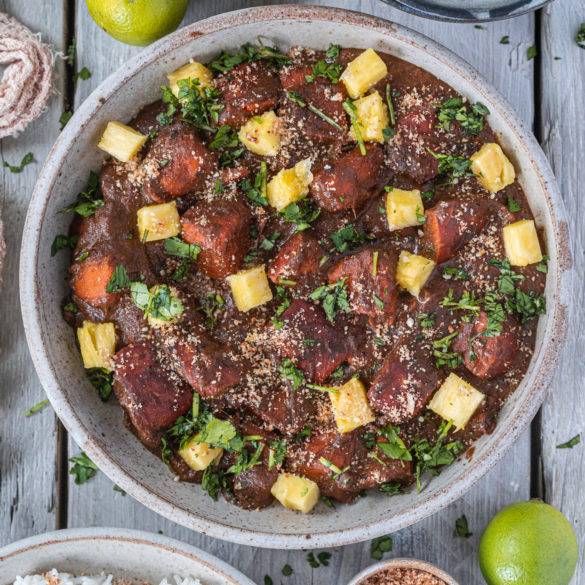 Ingredients
Malaysian Curry Paste (rempah)
200g shallots
1 inch ginger, peeled
6 cloves of garlic
6 small red chillies, birds eye
1 1-inch fresh turmeric, peeled
1 2-inch fresh galangal, peeled
2 lemon grass sticks, trimmed (use white parts only)
10 candlenuts (or alternatively, use cashews)
2tbs peanut oil (or olive oil, if unavailable)
For the stock
15g dried shiitake mushrooms (or 80g fresh shiitake mushrooms)
10g kombu dried (also known as kelp)
500ml filtered water
For the rendang
500g sweet potato, chopped roughly
4tbs peanut oil
1 cinnamon stick
4 cloves of India
3 Star Anise
4 cardamom pods, seeds
400ml coconut milk, rich
250ml water
2tbs tamarind pulp, soaked in hot water, with seeds removed (or use 2tbs tamarind paste)
6 kaffir lime leaves, ground
1tbs raw unrefined palm sugar
50g coconut, flakes or shavings, toasted
400g pineapple
Instructions
Make the Malaysian Spice Paste by combining the paste ingredients in a high-speed blender. Depending on requirements.  Use a third of the proportions. Store the rest in a sterilised jar and keep fridgerated for up to a month, until needed.
In a large non-stick pan, make the stock by simmering under a low heat the shiitake mushrooms and kombu in water for about an hour.  Sieve and discard the kombu and keep the shiitake for later. Retain the stock and set to one side.
Make the curry paste by placing the chillies and garlic in a high-speed blender. Blend until fine. Transfer to a small skillet. Add the oil and sauté the chillies until the chillies start to float. This will be about 3 to 4 minutes. Set to one side.
In a large non-stick saucepan, sauté the sweet potato in peanut oil for 5 to 10 minutes, until caramalised.
Grind in a grinder the cinnamon, cloves of India, Star Anise and cardamon pod seeds.  Add with the curry paste to the sweet potato. Add in about 50ml of the kombu stock to make a marsala. Continuing cooking for another 3 to 4 minutes.  Add in the rest of the stock and the coconut milk.  Continue cooking for another 10 minutes until the sweet potato has cooked.
Add in the tamarind pulp, kaffir leaves and sugar and cook for a further 5 minutes.
Serve rendang with the pineapple and toasted coconut shavings. Serve with rice.