Fiery sweet-sour Pineapple and caramalised Sweet Potato Rendang infused with tamarind, lemon-grass, Star anise and cinnamon.
Get hot under the collar. And, strip.
This dish will topple any belief that vegan food can't be super fulfilling and nourishing.
Make this:
When the ladies are over for a little bubbly and you're dying to see how your guests get – and not to be outdone with your culinary skills
When you fancy an Asian night with loved ones, in front of a good flick and a dish to wash down with a bevvy or two will have your night ending on a high
When it's a Saturday night and a dish that's a little different and one you can really dance to as you prepare it ready for the evening ahead
Pineapple and Sweet Potato Rendang was inspired when meandering through the streets of Malacca City in Malaysia and marvelling at the magnificent Tartarian architecture.
Rendang is a popular curry stewed and slowly simmered in coconut oil and spices allowing the vegetables to soak up the heat and served in South-Eastern Asian countries.
Pineapple and Sweet Potato Rendang is vegan and paleo.
What to do next
Tag me on @ethiveganquantum on Instagram to show me what you've made and let me know you're happy for me to share.
My recipes are featured in vegan speciality publications: Nourished, Vegan Life, Plant Based and Vegan, Food and Living.
Order my first self-published book, "Essence: The Beginner's Guide to Veganism" part of the three-part Circle of Food series. My second book "Presence: The Ascending Vegan" – which explores how to maintain a vegan practice is out in 2027 – I have compiled all the chapters including recipes.
Going strong since 2013.
Love.
Edward x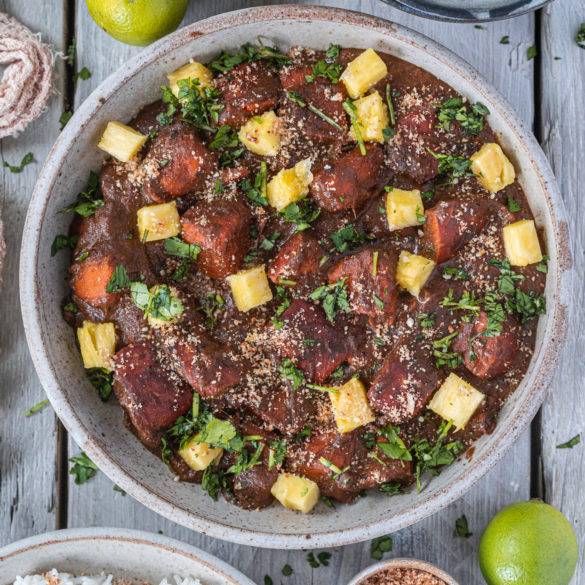 Ingredients
Malaysian Curry Paste (rempah)

200g shallots

1 inch ginger, peeled

6 cloves of garlic

6 small red chillies, birds eye

1 1-inch fresh turmeric, peeled

1 2-inch fresh galangal, peeled

2 lemon grass sticks, trimmed (use white parts only)

10 candlenuts (or alternatively, use cashews)

2tbs peanut oil (or olive oil, if unavailable)

For the stock

15g dried shiitake mushrooms (or 80g fresh shiitake mushrooms)

10g kombu dried (also known as kelp)

500ml filtered water

For the rendang

500g sweet potato, chopped roughly

4tbs peanut oil

1 cinnamon stick

4 cloves of India

3 Star Anise

4 cardamom pods, seeds

400ml coconut milk, rich

250ml water

2tbs tamarind pulp, soaked in hot water, with seeds removed (or use 2tbs tamarind paste)

6 kaffir lime leaves, ground

1tbs raw unrefined palm sugar

50g coconut, flakes or shavings, toasted

400g pineapple
Instructions
Make the Malaysian Spice Paste by combining the paste ingredients in a high-speed blender. Depending on requirements.  Use a third of the proportions. Store the rest in a sterilised jar and keep fridgerated for up to a month, until needed.
In a large non-stick pan, make the stock by simmering under a low heat the shiitake mushrooms and kombu in water for about an hour.  Sieve and discard the kombu and keep the shiitake for later. Retain the stock and set to one side.
Make the curry paste by placing the chillies and garlic in a high-speed blender. Blend until fine. Transfer to a small skillet. Add the oil and sauté the chillies until the chillies start to float. This will be about 3 to 4 minutes. Set to one side.
In a large non-stick saucepan, sauté the sweet potato in peanut oil for 5 to 10 minutes, until caramalised.
Grind in a grinder the cinnamon, cloves of India, Star Anise and cardamon pod seeds.  Add with the curry paste to the sweet potato. Add in about 50ml of the kombu stock to make a marsala. Continuing cooking for another 3 to 4 minutes.  Add in the rest of the stock and the coconut milk.  Continue cooking for another 10 minutes until the sweet potato has cooked.
Add in the tamarind pulp, kaffir leaves and sugar and cook for a further 5 minutes.
Serve rendang with the pineapple and toasted coconut shavings. Serve with rice.