Whoever said vegetables were not versatile? Marinaded Barley Malt Butternut Squash Medallions is another of my favourite dishes.  I love butternut squash because there are so many wonderful dishes to make using this ingredient. These make a fantastic main course dish. The malt barley really brings out the sweetness of the butternut squash, yet not overpowering it. This recipe has been updated as I wanted to experiment with the flavours and textures.
What to do next
Tag me on @ethiveganquantum on Instagram to show me what you've made and let me know you're happy for me to share.
My recipes are featured in vegan speciality publications: Nourished, Vegan Life, Plant Based and Vegan, Food and Living.
Order my first self-published book, "Essence: The Beginner's Guide to Veganism" part of the three-part Circle of Food series. My second book "Presence: The Ascending Vegan" – which explores how to maintain a vegan practice is out in 2027 – I have compiled all the chapters including recipes.
Going strong since 2013.
Love.
Edward x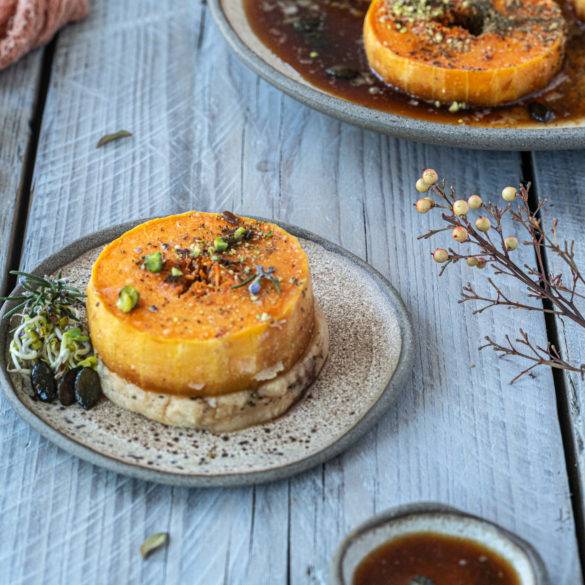 Ingredients
25g pumpkin seeds
1 butternut squash
1tbs coconut oil
100ml malt barley extract
200ml boiling water
1/4tsp salt
1/2 lime, juice and zest
1/2 stick of lemon grass
few sprigs of rosemary
1cm fresh ginger, grated
Garnishing
Pistachio nuts, ground
Instructions
Soak the pumpkin seeds in filtered water for a couple of hours. Drain and set aside.
Use a knife to gently peel off the skin. Cut the butternut squash into medallions between 1 to 1.5cm in thickness. Remove the seeds too. Transfer the butternut squash into the ovenproof tray
Melt the malt barley in boiling water. Add the salt, lime juice. Combine and leave to one side.
In a grinder, pulse the lemon grass with the springs of rosemary to a rough consistency. Add with the fresh ginger to the malt barley marinade.
Baste over the mart barley mixture and leave to marinade overnight or for a few hours. Turn over the butternut squash regularly.
Preheat oven to gas mark 180 degrees Celsius or if you have a fan oven at gas mark 160 degrees Celsius.
Roast the pumpkin seeds in oven for 10 minutes and set aside.
Place the butternut squash in an ovenproof dish. Cover the butternut squash with aluminium foil and bake until the butternut squash is cooked – about 40 minutes later. Turn over the medallions regularly.
Garnish with the pumpkin seeds, pistachios and zest of lime.
Serve immediately.

Serve immediately.