Vegan Moussaka is one my Ethivegan signature recipes. This Moussaka recipe was created a number of years ago following many attempts. Being conscious about substituting dairy and meat products can invigorate our creativity and open ourselves up to new possibilities. I hope that you will enjoy this Moussaka dish as much as I did it in eventually coming up with it. The four layers to this Moussaka really enhance the dish as you bite into each layer and flavour.
What to do next
Tag me on @ethiveganquantum on Instagram to show me what you've made and let me know you're happy for me to share.
My recipes are featured in vegan speciality publications: Nourished, Vegan Life, Plant Based and Vegan, Food and Living.
Order my first self-published book, "Essence: The Beginner's Guide to Veganism" part of the three-part Circle of Food series. My second book "Presence: The Ascending Vegan" – which explores how to maintain a vegan practice is out in 2027 – I have compiled all the chapters including recipes.
Going strong since 2013.
Love.
Edward x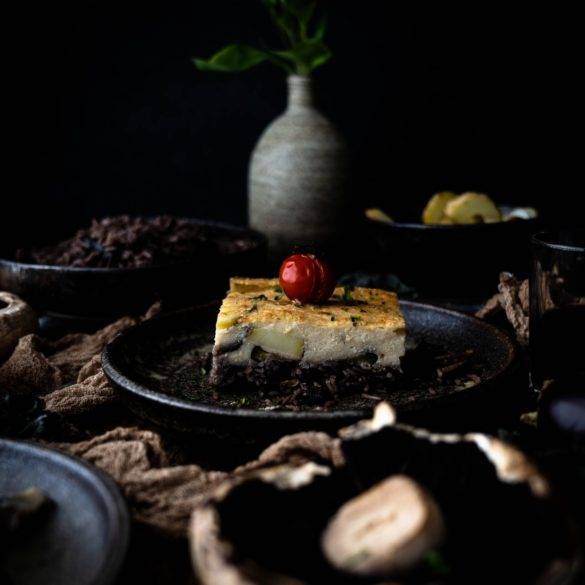 Ingredients
For rice layer
2tbs extra virgin olive oil
125g long grain rice
125g mushrooms, chopped
100ml red wine
250ml filtered water
2 cloves garlic, chopped
For aubergine layer
2 aubergines
1tbs rock salt
5ml extra virgin olive oil
For potato layer
800g potatoes, sliced
For topping
150g silken organic tofu
500ml water
2tbs coconut oil
150g semolina
100g oats
1tsp agar agar
1/2tsp salt
Baking tray – 10 inches by 15 inches
Instructions
Slice the aubergines length ways. Place in a colander coating with the salt on both sides. Make sure that you have a dish underneath to collect any excess liquid. Leave to one side for a couple of hours.
For the rice layer, coat the rice in olive oil over a medium heat. Add the mushrooms and red wine. Reduce to a low heat and cook until all the flavours meld into one. Add the water until the rice softens. Switch off the heat and add the garlic. Set to one side.
Preheat oven to gas mark 180 degrees Celsius.
Place the sliced potatoes in a large saucepan filled with boiling water. Boil for about 10 minutes. Drain and set to one side.
Dry the aubergine with a dish cloth to remove any excess moisture. Sauté the aubergine in a large frying pan with the olive oil. Use a pair off tongues to turn over. Cook until lightly browned. Repeat until all the aubergine slices are done and set to one side.
Place the rice at the bottom of the baking tray. Smooth over with a spatula. Add the aubergine slices on top. Then add the layer of potatoes.
For the topping, place the oats and semolina into a blender and whizz till fine. Toss in the silken tofu and water. Blend a smooth mixture. Place the topping in a medium sized saucepan. Over a low heat, add the coconut oil. Once integrated switch off the heat and add the semolina, agar agar and salt.
Place the topping over the potatoes. Place in the oven and cook for about 30 minutes until the topping goes golden brown.
Serve with salad.