These Matcha and Pecan Mini-Cakes came about because my friends Dominica, Marcin and Iain had decided we needed an adventure. This adventure would take us to Stonehenge for the Summer Solstice. I remember we munched on these as we delighted in our make shift picnic strewn across the grass as the sunset and a mug of tea in one hand and one of these cakes in another.
What to do next
Tag me on @ethiveganquantum on Instagram to show me what you've made and let me know you're happy for me to share.
My recipes are featured in vegan speciality publications: Nourished, Vegan Life, Plant Based and Vegan, Food and Living.
Order my first self-published book, "Essence: The Beginner's Guide to Veganism" part of the three-part Circle of Food series. My second book "Presence: The Ascending Vegan" – which explores how to maintain a vegan practice is out in 2027 – I have compiled all the chapters including recipes.
Going strong since 2013.
Love.
Edward x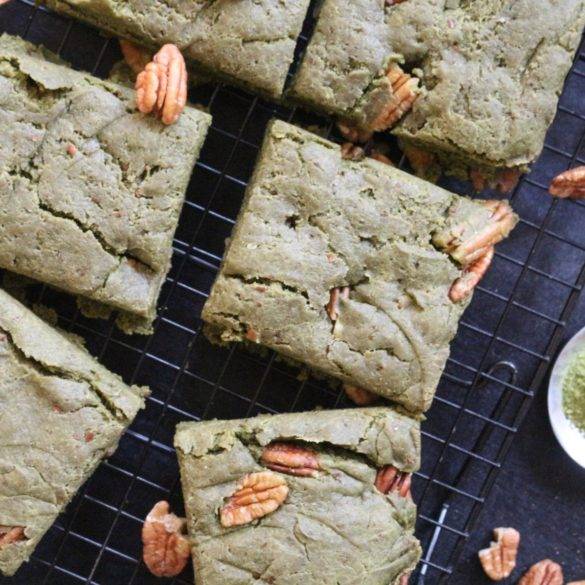 Ingredients
15g yeast
200ml filtered water
150g coconut oil
100g unrefined raw coconut sugar
25g matcha
300 "00" doppio flour
75g coconut flour
100g pecans
Instructions
Preheat the oven to gas mark 180g Celsius.
Place the yeast in lukewarm filtered water and set to one side.
Cream the coconut oil with the sugar in a food mixer. Add the yeast mixture. Combine well.
Add the matcha and flour. Combine well.
Spoon in the pecans.
Line a baking tray with coconut oil. Line with a piece of baking parchment. Pat the mixture into the bottom and sides of the tray.
Bake the mixture in the oven for 25 minutes. It should still have a moist texture.
Remove from the oven and set to one side on a rack.
Once cooled down, cut into squares.
Serve.