Sautéed Peanut Roasted Sweet Potatoes came about because I had purchased a mountain of sweet potatoes and I just needed to consume them. Sweet potatoes are versatile – they can be eaten raw, baked, boiled and sautéed. I love them.
What to do next
Tag me on @ethiveganquantum on Instagram to show me what you've made and let me know you're happy for me to share.
My recipes are featured in vegan speciality publications: Nourished, Vegan Life, Plant Based and Vegan, Food and Living.
Order my first self-published book, "Essence: The Beginner's Guide to Veganism" part of the three-part Circle of Food series. My second book "Presence: The Ascending Vegan" – which explores how to maintain a vegan practice is out in 2027 – I have compiled all the chapters including recipes.
Going strong since 2013.
Love.
Edward x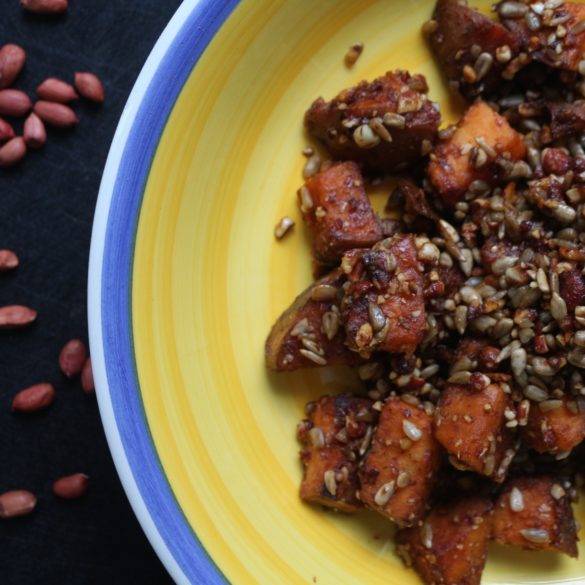 Ingredients
2 medium sized sweet potatoes
2tbs coconut oil
50g sesame seeds
50g peanuts
2tbs extra virgin olive oil
2tbs organic tamari sauce
½ juice of lime
salt and pepper to season
Instructions
Preheat oven to gas mark 180 degrees Celsius.
Soak the seeds in filtered water.
Place the sweet potatoes in an ovenproof dish. Using a pastry brush, brush over the coconut oil. Bake in the oven for about 30 minutes until you are able to slide a knife through the potato with ease. Set to one side.
Drain the water from the seeds.
Place the peanuts into a food processor and roughly chop.
Chop the sweet potatoes into cubes. Sauté the potatoes in the olive oil for a couple of minutes. Toss in the seeds and peanuts. Continue frying until the potatoes start to brown. Switch of the heat.
Add the tamari sauce and lime juice.
Season to taste.
Serve.