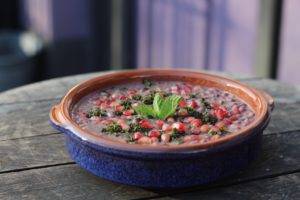 Mint Pomegranate Aduki Bean Casserole
Aduki beans are just so versatile; there is something about their texture and distinctive taste. Fenugreek is one of those spices that I find really contrasts with the aduki beans. Why not give this Mint Pomegranate Aduki Bean Casserole a try?
Cuisine:
Vegan, Vegetarian
Ingredients
200g aduki beans
1 onion, chopped
2tbs coconut oil
2 cloves garlic, sliced
2tsp fenugreek
1ltr water
400ml coconut milk
1tbs freshly squeezed lemon juice
100g pomegranate seeds
mint leaves
Instructions
Soak the aduki beans overnight in water. Drain and wash in fresh water.
Place the onion, garlic and oil in a pressure cooker. Cook until the onion turns translucent.
Add the fenugreek powders and form a marsala paste. Add aduki the measured water and coconut milk. Seal and place under pressure for about 15 minutes. Remove from the pressure.
Just before serving combine in the dish with lemon juice, mint leaves and pomegranate seeds.
EthiVegan by Edward Daniel
What future would you like to paint? What I say is that it is possible to lead a fulfilling life by going within, living in alignment, letting go of the past and thriving on a vegan diet.
If you want to uncover your purpose and live a more enriching life, why not purchase my book "Essence: The Beginner's Guide to Veganism"?
To order your copy of "Essence: The Beginner's Guide to Veganism" click here
Subscribe to my EthiVegan Youtube channel – click here
For more information about me, Meet the author – click
Thanks for viewing my recipes and interviews.
Love you all.
Edward x
Edward Daniel | Servant to Humanity | Second Wave | Chef | Media IT IP Solicitor | Author | Presenter | Former Chair, The Vegan Society