These Mint Tofu Stuffed Jalapeno Peppers I love for their warming effect. What I adore is that not only are these peppers fiery but their distinctive taste add exceptional texture to dishes.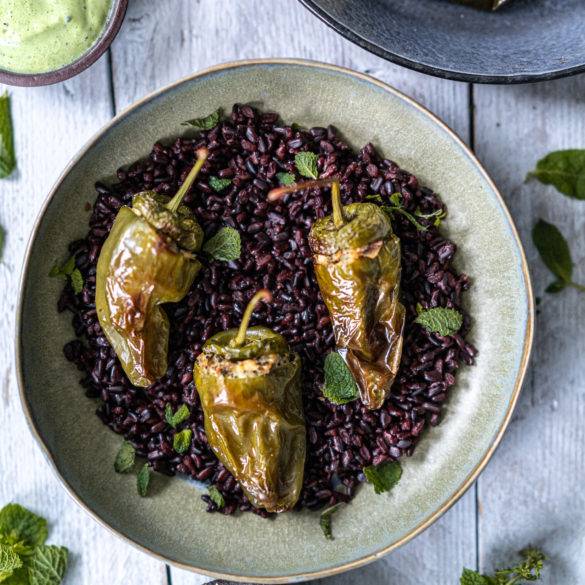 Ingredients
10 jalapenos
4tbs olive oil
2 shallots chopped
200g organic tofu
few sprigs of mint
juice of ½ lime
2 cloves of garlic
salt and pepper to taste
Instructions
Pre-heat oven to gas mark 180 degrees Celsius, or if you have convention oven to gas mark 160 degrees Celsius.
Cut the top off of the jalapenos and using a teaspoon, scoop out the seeds. Discard the seeds. Leave the bulbs to one side.
Sauté the shallot in 2tbs olive oil until the shallots turn translucent.
Blend the tofu with mint, lime juice and 2tsb olive oil.
In large bowl combine the shallot with the tofu mixtures. Add in the garlic. Season to taste. Set to one side.
Use a teaspoon to scoop the mixture into the bulbs and cover with the tops. Drizzle over oil on top of the jalapenos.
Cook in the oven for about 30 minutes until the jalapenos soften.
Serve warm.