Moringa and Mango Smoothie Bowl came about because there is such an abundance of lush food to be experienced here while I am out in the tropics. Note that the Moringa can be quite bitter in leaf form and is less potent in powder. I suggest you have a taste first when in its wholefood unaltered state and generally. I enjoy it because it is an ingredient that this highly nutritious and here I have balanced the flavour with the mango and dates and sprinkling of gogi berries and coconuts. For me this experience is humbling to realise how lucky I am. In London too there is an array of local foods and when I return it will encourage me to experiment even more. I encourage you to experiment too with food at every opportunity – life can always lead you into new directions. This dish is for one person.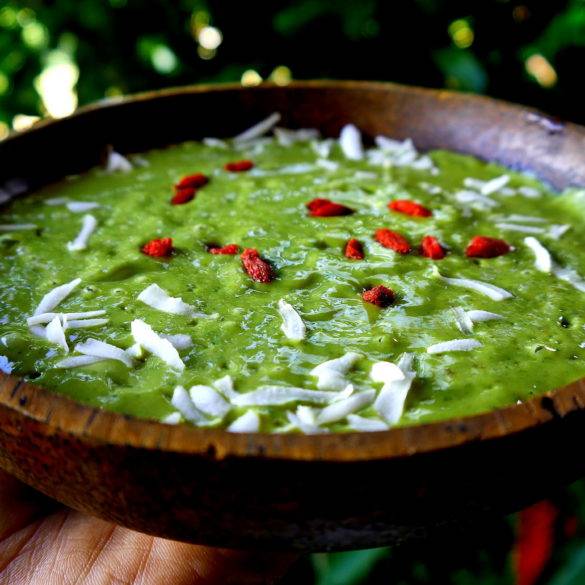 Ingredients
1 mango
2 sprigs of moringa leaves (or ½ tsp of dried moringa powder)
4 dates, pitted
250ml vegan milk
Handful of goji berries and coconut flakes for garnishing
Instructions
Place the mango, moringa leaves, dates and vegan milk in a blender and combine well. Transfer to a serving bowl.
Top the dish with goji berries and coconut flakes.