Citrus Moroccan Orange and Polenta Cake infused with minty cardamom and aromatic orange blossom water in an almond polenta confectionary.
Tempt your pecker with something moist and lush.
This dish will burst your belief that vegan food can't be this super sumptuous
Make this:
When you're hosting a lavish afternoon mint tea party as you bathe in resounding yumminess
When you've got a weekend date with your oven, as you languish in complete indulgences
When you've got a first date with a new beau/belle and want to super impress them with culinary skills
Moroccan Orange and Polenta Cake was inspired when hitting upon one of the al fresco cafes in the Spice Market in Marrakech with my parents on my extravagant road trip with them.
Moroccan Orange and Polenta Cake is vegan and gluten-free.
Where I get my ingredients from
Blanched almonds, I purchase from a nifty Asian outlet in Hayes.  It has an online presence too which can be found here – I love it because it is reasonably priced and tends to be good quality stuff which I use.
What equipment to use
For this recipe, I suggest:
High speed blender
Oven 
What to do next
Tag me on @ethiveganquantum on Instagram to show me what you've made and let me know you're happy for me to share.
My recipes are featured in vegan speciality publications: Nourished, Vegan Life, Plant Based and Vegan, Food and Living.
Order my first self-published book, "Essence: The Beginner's Guide to Veganism" part of the three-part Circle of Food series. My second book "Presence: The Ascending Vegan" – which explores how to maintain a vegan practice is out in 2027 – I have compiled all the chapters including recipes.
Going strong since 2013.
Love.
Edward x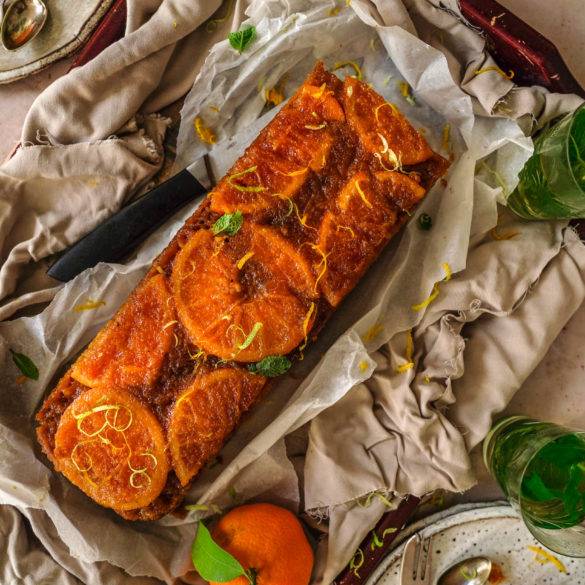 Ingredients
2 large oranges (yielding around 90g of flesh)

200g almonds, blanched

150g polenta

125g unrefined cane sugar

6 cardamom pods, seeds

1tsp baking soda

Pinch of salt

100ml olive oil

25g coconut oil

110ml water (if the oranges don't yield 90g flesh then top with water – see below)

2tsp orange blossom water

For base

100g unrefined cane sugar

25ml of water

1 orange, thinly sliced
Instructions
Place the orange in a sauce pan full of water so that the oranges are submerged. Bring to the boil and, boil for about 30 minutes. Once cool, remove the skin – this means removing all of the peel, seeds and pith. Retain the flesh only. Set to one side.
Pre-heat the oven to gas mark 180 degrees Celsius or if you have a fan oven 160 degrees Celsius.
Line a cake tin with olive oil. Lay parchment paper over.
For the orange base, caramelise 100g of sugar in a pre-heated frying pan. As the sugar starts to caramelise pour in the water and place on the base of the cake tin. Thinly slice an orange and line the bottom of the tin. Set to one side.
Make the cake by placing the almonds, sugar, cardamom seeds. Place in a large mixing bowl with the polenta, baking soda and salt.  Set to one side.
Weigh the orange – top with water so that the total weight comes to 200g. Place the orange and water in a food processor.  Add these ingredients to the dry.  Give only a quick combination.
Add in the blossom water and the oils. Give another quick combine.
Combine the wet ingredients to the dry.
Dish into the cake tin. I suggest this be a loose base cake tin.
Bake in the oven for about 1 hour. Cover with foil for the first 50 minutes and leave uncovered for the last 10 minutes. The crust will turn into a light golden colour and a skewer should be able to run through.
Remove from heat and set to one side until cool.