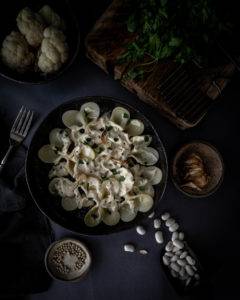 Vegan Alfredo Sauce
Vegan Alfredo Sauce is perhaps one of my simplest dishes. I use butter beans/cannellini beans and roasted garlic for this Vegan Alfredo Sauce. Just a pinch of salt, white pepper and some lush cauliflower topped with parsley. Well, perfection knows no boundaries.
Recipe type:
Main, Starter
Cuisine:
Vegan, nutfree, glutenfree, gf
Ingredients
50g butter beans soaked in water overnight
50ml retained butter bean water
200g cauliflower florets
3 cloves of garlic, plus oil for drizzling
3tbs oil
Salt
White pepper
Garnishing
Parsley
Instructions
Soak the butter beans overnight.
The following day, preheat oven to gas mark 180 degrees Celsius or if you have a fan oven 160 degrees Celsius.
Pressure cook the beans for about 30 minutes. Leave in the cooker with the water. Set to one side.
Drizzle some oil over the garlic cloves and roast in a small baking tray in the oven. Bake until golden brown. Carefully remove the skin and set to one side.
Steam the cauliflower for about 15 minutes.
Drain the beans into a large mixing dish, separating out the bean liquid. Weigh 50ml of the bean liquid – but use the tail end of the liquid as that will retain the flavour.
Please the beans and bean liquid into a food processor, with oil and cauliflower and garlic. Add a pinch of salt and a little pepper. Whizz until the alfredo sauce becomes a soft consistency.
Garnish the vegan alfredo sauce with parsley.
Serve the vegan alfredo sauce with pasta of your choice.
_____________________________________________________
EthiVegan by Edward Daniel
Thank you for taking the time to view my recipes, interviews and events pages.  I hope I inspire you to make these recipes and also inspire you to become very best versions of yourself.
You can follow me on Instagram here (@ethivegan) where I have quick one minute update videos and for interviews and cooking demonstrations you can subscribe to my Youtube channel here.  You can watch live cooking demonstrations by subscribing to my Facebook profile here (@ethivegan).
For more information about me – click here
See you soon.
Love.
Edward x
Edward Daniel | Vegan Chef