I attended an event recently and this bread was an immediate hit. I had been rushing around all morning but it was well worth making it. This is such an easy recipe and there is nothing quite like fresh home made bread – you know exactly what has gone into the recipe – and, the results are really quite humbling.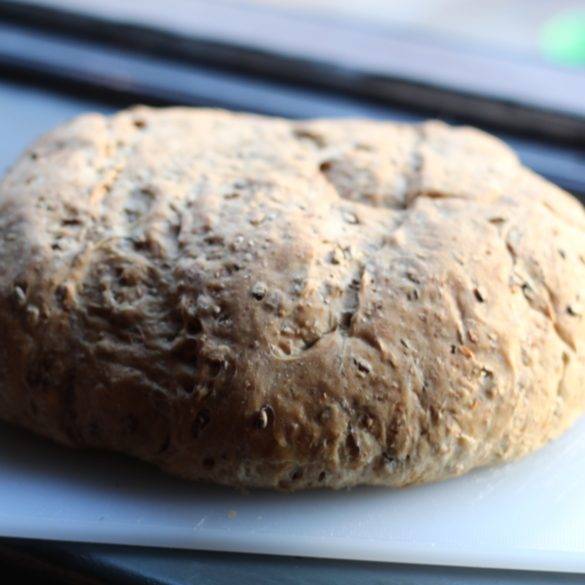 Ingredients
285ml lukewarm water
16g fresh yeast
1tsp raw unrefined cane sugar
1/2tsp salt
600g multigrain flour
5tbs extra virgin olive oil
Instructions
Gently heat the water over a low heat until it is lukewarm. Place into a bowl with one tablespoon of the measured castor sugar, salt and the fresh yeast. Leave aside for 30 minutes.
In a mixer, place the flour and 3 tablespoons of the measured olive oil. Add the yeast mixture and whizz using a dough hook until well integrated.
Line a large bowl with 1-tablespoon of oil. Remove the dough from the mixer and coat with the oil. Leave to one side for about 1 hour.
Knead the risen dough with both hands for about 10 minutes. Leave to one side for about 2 hours.
Top tip – the dough should have expanded to three times its original size and should be a nice roundish ball.
Using a pastry brush, line a baking tray with the remaining 1-tablespoon of olive oil. Gently remove the dough from the bowl and place onto the baking tray.
Preheat oven to 180 degrees Celsius.
Bake the bread in the oven for about 25 minutes. The bread is done when you are able to slide a skewer into the bread and it comes out clean.