Piquant nutty Panfried Charred Padron Peppers with fennel and sesame seeds, garlic mint, barberries, rose petals, and flaked almonds.
Pamper yourself and gobble something succulent. And, gulp.
This dish will overthrow any belief that vegan food can't be super easy to make.
Make this:
When you've got a busy schedule at work and need a dish that's going to be stress-free to make
When want something colourful, sweet and nutty that'll give you a splash when you've last minute guests calling in
When you fancy a tapas night before get up and do a flamenco
Panfried Charred Padron Peppers was inspired when munching on panfried padron peppers while sipping cold red wine having tapas in Rambla in Barcelona.
Padron Peppers originate s from Galicia, North-western Spain and grow between May and October.
Padron peppers are a good source of fibre, ideal for keeping the gut moving.
This savoury dish is vegan and paleo.
What to do next
Tag me on @ethiveganquantum on Instagram to show me what you've made and let me know you're happy for me to share.
My recipes are featured in vegan speciality publications: Nourished, Vegan Life, Plant Based and Vegan, Food and Living.
Order my first self-published book, "Essence: The Beginner's Guide to Veganism" part of the three-part Circle of Food series. My second book "Presence: The Ascending Vegan" – which explores how to maintain a vegan practice is out in 2027 – I have compiled all the chapters including recipes.
Going strong since 2013.
Love.
Edward x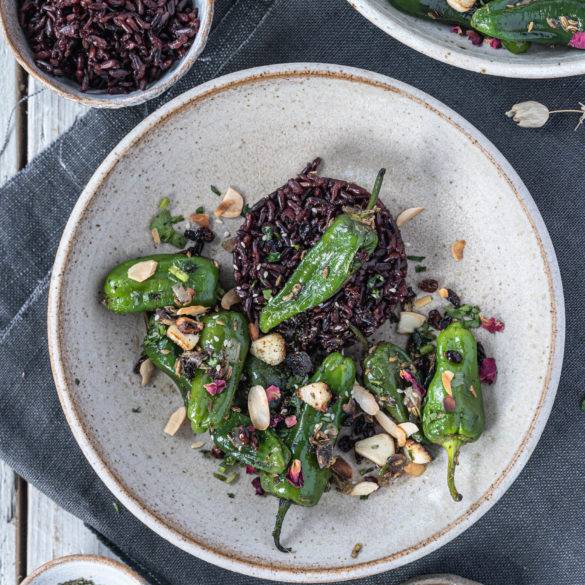 Ingredients
500g Padron peppers

1 shallot

3tbs olive oil

1tbs fennel seeds

1tsp sesame seeds

2 garlic, cloves

1tbs flaked almonds

1tsp dried mint

1tbs barberries

1tsp rose petals

½ lemon, juice

Pinch of salt
Instructions
In a frying pan, sauté the Padron peppers in oil until they change a light green sheen.
Add the shallot and toast and until translucent.
Add in the fennel and sesame seeds and roast for a couple of minutes.
Add in the garlic and flaked almonds. The Padron peppers should be starting to char by now and pan fry until the almonds change brown.
Switch off the heat. Add in the remaining ingredients. Stir and serve immediately.