Puy lentils with fiery habanero chilli, tart pineapple, sweet plum tomatoes, bitter parsley and citrusy lemon; Pineapple Tomato Puy Lentils.
Get all hot and sizzling as you taste something soft and succulent. And, munch.
Make this:
When you fancy a winter salad that'll have you all heated up. Plus, will have you all warmed up all right as you put one foot in front of the other in the dashing cold
When you've got a Games night with the lads. And, the lads are getting more raucous by the second. You need to get them all fired up so you can sweep in with a winning spree
When you've got a Mexican night on. And, your mates are getting into the groove with the funky music you have playing. To top it all you're crying out for a bit of puy lentils to abate those hunger pangs.
Pineapple Tomato Puy Lentils with Pineapple and Roasted Tomatoes was inspired when creating a fakeaway while at home. I had been thinking, what about a bit of spicy citrusy habanero chili with pineapple and roasted tomatoes. Hey presto, this dish was born and so, was my burning tongue. Truth be told it was well worth it. I love a bit of habanero chili which was this gorgeous citron taste to it.
Puy lentils are small, green and speckled blue. They a peppery taste them. What I love is they are rich in dietary fibre and good for our digestive system.  They are a variety of lentil that come from the Le Puy region of France. Puy Lentils having grown in the same region for over 2000 years, grown in volcanic soil. This is what makes this delicacy super special.
Pineapple Tomato Puy Lentils is vegan.
Where I get my ingredients from
I purchase my habanero chilli from a quaint Mexican supermarket near Warren Street in London, called Mestizo Market. You can find details of Mestizo Market here.
What equipment to use
For this recipe, I suggest:
Food Processor
Pressure cooker
Stove
What to do next
Tag me on @ethiveganquantum on Instagram to show me what you've made and let me know you're happy for me to share.
My recipes are featured in vegan speciality publications: Nourished, Vegan Life, Plant Based and Vegan, Food and Living.
Order my first self-published book, "Essence: The Beginner's Guide to Veganism" part of the three-part Circle of Food series. My second book "Presence: The Ascending Vegan" – which explores how to maintain a vegan practice is out in 2027 – I have compiled all the chapters including recipes.
Going strong since 2013.
Love.
Edward x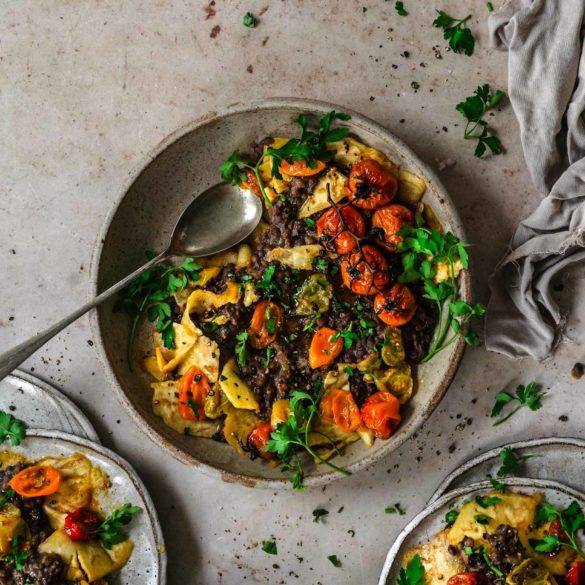 Ingredients
200g plum tomatoes

2tbs olive oil

200g puy lentils

400ml filtered water

½ pineapple

½ habanero chilli, deseeded (optional)

Few sprigs of parsley

½ lemon, juice

Pinch of salt
Instructions
Soak the Puy lentils overnight or for about 8 hours.
Pressure cook the Puy lentils in 400ml of water for about 20 minutes. Set to one side.
Preheat oven to 180 degrees Celsius, or if a convection oven to 160 degrees Celsius.
Halve or leave whole, the plum tomatoes. Do a combo of both. And, place in a baking tray with the olive oil. Roast in the oven for about 20 minutes.
Skin the pineapple and spiralise and place in a large mixing bowl. Add in the puy lentils, tomatoes and chilli. Deseed the chilli though otherwise you will be crying out for some water. Mix well and transfer to a serving bowl.
Drizzle over the lemon juice and garnish with parsley.