Soft spongy moist oozing Peanut Butter Cookies infused with aromatic crushed fennel and fragrant lavender seeds.
Temptation doesn't need to be lonesome.  And, shudder.
This dish will burst your belief that vegan can't be super tasty.
Make this:
When you're lounging on the sofa with a good book in hand and a dish that'll have you nibbling away as you dive further into each chapter
When the kiddies have just returned from after school games and a little treat to go with a vegan cuppa is what'll satiate their hunger pangs
When you've run through gale force winds and pelting down rain and a delicacy that'll have you dry in a jiffy is just what the chef ordered
Peanut Butter Cookies was inspired when passing by a local bakery and returning home wanting to dish up my own vegan version – but with a bit of nowse.
Peanut butter is relatively unprocessed so ensure you get the traditional one without the added hydrogenated fats or sugars. They're a good source of protein.  Or, make your own Peanut Butter. Here's my recipe for Peanut Butter.
Fennel seeds act as diuretic and improve metabolism.  They are also good at abating those hunger pangs. Lavender seeds aid digestion.
A combo of peanut butter, fennel and lavender seeds is off the charts.
Peanut Butter Cookies are vegan and gluten-free.
What to do next
Tag me on @ethiveganquantum on Instagram to show me what you've made and let me know you're happy for me to share.
My recipes are featured in vegan speciality publications: Nourished, Vegan Life, Plant Based and Vegan, Food and Living.
Order my first self-published book, "Essence: The Beginner's Guide to Veganism" part of the three-part Circle of Food series. My second book "Presence: The Ascending Vegan" – which explores how to maintain a vegan practice is out in 2027 – I have compiled all the chapters including recipes.
Going strong since 2013.
Love.
Edward x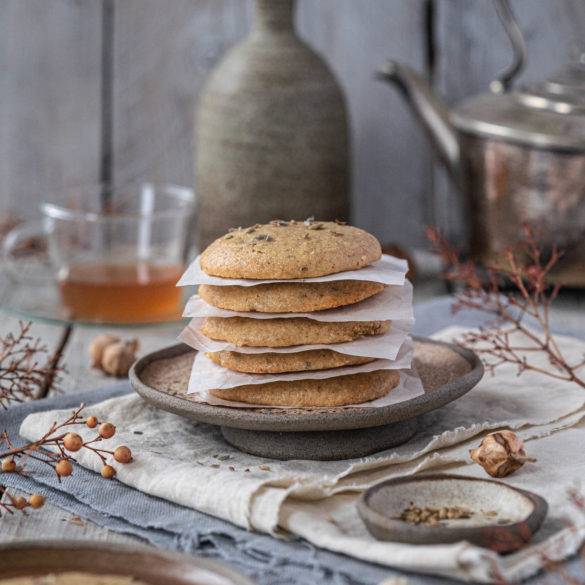 Ingredients
75g peanut butter

60g almonds, blanched and ground

50g millet

40g tapioca flour

100g raw unrefined cane sugar

100ml coconut milk

25g olive oil

30g flaxseeds

1tsp fennel seeds

1tsp lavender seeds

1tsp baking powder

Pinch of salt
Instructions
Pre-heat the oven to gas mark 180 degrees Celsius or if you have a fan oven 160 degrees Celsius.
In a high-speed processor grind the millet, sugar, flaxseeds and salt.
Blanche the almonds by placing in hot boiling water. Remove skin and pat dry.  Add to the processor and continuing grinding. Transfer to a large mixing bowl.
Add in the tapioca flour and baking powder. Mix well.
Pour in the coconut milk and oil and combine well. Cream in the peanut butter.
Take a pestle and mortar and crush the fennel and lavender seeds. Add to the mix.
Line large baking tray with parchment paper and oil.
Take an ice-cream scoop, and scoop out some dough. Use a knife to sweep away any excess.  Scoop onto the parchment paper. Repeat until your tray is full but make sure there is sufficient space to permit the cookies to spread out as they bake.
Bake in the oven for 10 minutes.
Cool and serve with a nice cuppa.