Vegan Fish Fingers breaded in crispy crunchy polenta and King Oyster Mushroom scallops infused with garlic and nori.
Hook out on bread crumbs. And, fish.
This dish will topple your belief that vegan food can't be quick and simple to make.
Make this;
When you're nostalgic for school cafeteria food and a dish down memory lane provides solace
When the kiddies have a heavy games day and need a wholesome dish that'll have them munching on the hoof
When you've got a seafood potluck and a dish that'll have your fellow guests salivating
Vegan Fish Fingers was inspired by wistful memories of school cafeteria food and just wanting an alternative veganised version.
Nori, also known as laver is an edible seaweed. It's been credited to health and long life in Asian cultures.
These Fish Fingers are vegan seafood and gluten-free.
What to do next
Tag me on @ethiveganquantum on Instagram to show me what you've made and let me know you're happy for me to share.
My recipes are featured in vegan speciality publications: Nourished, Vegan Life, Plant Based and Vegan, Food and Living.
Order my first self-published book, "Essence: The Beginner's Guide to Veganism" part of the three-part Circle of Food series. My second book "Presence: The Ascending Vegan" – which explores how to maintain a vegan practice is out in 2027 – I have compiled all the chapters including recipes.
Going strong since 2013.
Love.
Edward x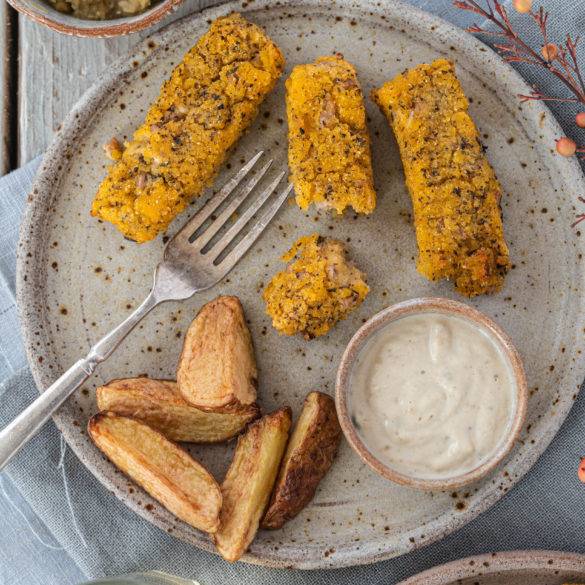 Ingredients
400ml vegetable stock (made with filtered water)

600g instant organic polenta (cornmeal)

150g King Oyster Mushrooms, finely chopped

2 cloves garlic, minced

1tbs onion powder

1tbs nori/laver, ground

½tsp salt

pepper

olive oil
Instructions
Bring the stock to boil in a large saucepan. Reduce in heat.
Add the garlic, salt and pepper. Stir.
Then gradually add the polenta. Use a balloon whisk to constantly stir until all the polenta is incorporated into the stock.
Reduce to a medium heat and stir with a wooden spoon for about two minutes. The mixture should thicken and the polenta should soften. Remove from the heat.
Add in finely chopped King Oyster mushrooms, onion powder and nori.
Brush a large baking tray with olive oil and cover the baking sheet.
Pour the polenta evenly over the base of the baking tray and use a back of a spatula to smooth over. Cover with another baking sheet.
Place the polenta in a refrigerator overnight and leave to set.
Turn the polenta over onto a clean work surface. Peel off the baking sheet. Cut the fish fingers lengthways into 2cm strips and 8cm long pieces. Be careful with the fish fingers as they can be delicate - but don't worry when cooked it'll all turn out right.
If you are using an air-fryer, using hands, I baste the fish finger in olive oil with a pastry brush and then place in the air-fryer at 180 degrees for about 12 minutes. Alternatively, you can deep-fry in oil for about 4 to 5 minutes until golden brown.
Serve warm.