Silky fluffy matoke in a nutty peanut coconut sauce laced with cinnamon, cumin, coriander, and ginger; Peanut Matoke.
Indulge in something smooth pillowy down. And, gulp.
This dish will detonate any belief that vegan food can't be super easy to make.
Make this:
When you're in search for an exotic African fruit that'll have you gushing
When you fed up with potatoes and need another carbohydrate that'll keep you going with energy
When you've got Cousin Fred over for dinner and a dish that'll outwit his knowledge and have him scratching his head to make out the Matoke
Peanut Matoke was inspired when attending a friend's house for dinner. His wife is Ugandan and she rustled up a delicious matoke dish. This dish is hats off to the introduction to matoke.
Matoke is rich in potassium, and high in starch and fibre, helping with digestion and avoid constipation.
This savoury dish is vegan and paleo.
What to do next
Tag me on @ethiveganquantum on Instagram to show me what you've made and let me know you're happy for me to share.
My recipes are featured in vegan speciality publications: Nourished, Vegan Life, Plant Based and Vegan, Food and Living.
Order my first self-published book, "Essence: The Beginner's Guide to Veganism" part of the three-part Circle of Food series. My second book "Presence: The Ascending Vegan" – which explores how to maintain a vegan practice is out in 2027 – I have compiled all the chapters including recipes.
Going strong since 2013.
Love.
Edward x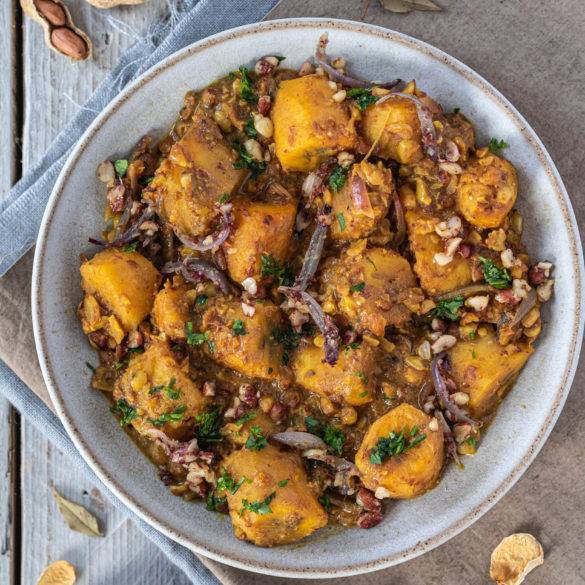 Ingredients
4 matoke

1 onion

4tbs olive oil

200g peanut

400ml coconut milk

1 small turmeric root or 1tbs turmeric powder

1 inch ginger or 1tbs ginger powder

1tbs coriander powder

1tbs cumin seeds

1 small cinnamon stick, ground

½ tsp cayenne pepper

1tbs tomato puree

2 garlic cloves

½ lemon, juice

Few sprigs of coriander

Pinch of salt
Instructions
Peel and cut the matoke into slices. Drop into boiling water and then simmer. Cook until the matoke cuts through easily with a knife.  This will take about 15 minutes. Set to one side.
Whizz the turmeric and ginger with coconut milk in a blender. Set to one side.
Sauté the onion in oil until translucent. Add in the peanuts and toast until golden.
Add the coriander, cumin, cayenne pepper and garlic and cook for a couple of minutes before adding a little coconut milk to form a paste. Pour in the remaining milk and add in the tomato puree. Bring to the boil and simmer.
Add in the matoke to the peanut sauce. Cook for a couple of minutes. Switch off the heat.  Add in the lemon juice, season with salt and toss in some chopped coriander.
Serve with chapati or rice.