Crispy caramelised sugar layered on a citrus flavoured Rice Pudding bed with a hint of cardamon and vanilla.
Harness the taste of something smooth and creamy. .. And, lick.
This dish will burst any belief that vegan food can't be super quick and easy to make.
Make this:
When you need to a scrumptious dish for the kiddies that'll have them digging in deep
When you've had a tough day at work and need a creamy dish to appease your hunger pangs
When you've got a dinner party and your pre-prepared dessert isn't up to scratch and you need a dessert that'll be ready in no time
Rice Pudding was inspired by nostalgic memories of my parents who would rustle up a quick pudding to pacify our hungry pangs when growing up as kids.
This version of this Pudding has a creamy bottom layer – which isn't sweetened but scented with vanilla and orange. It's the crunchy crystalised top layer that provides an exotic contrast to the pudding itself.
Rice Pudding is thought to have originated from India known for its rich rice and sugar culture.
This sweet dish is vegan and gluten-free.
What to do next
Tag me on @ethiveganquantum on Instagram to show me what you've made and let me know you're happy for me to share.
My recipes are featured in vegan speciality publications: Nourished, Vegan Life, Plant Based and Vegan, Food and Living.
Order my first self-published book, "Essence: The Beginner's Guide to Veganism" part of the three-part Circle of Food series. My second book "Presence: The Ascending Vegan" – which explores how to maintain a vegan practice is out in 2027 – I have compiled all the chapters including recipes.
Going strong since 2013.
Love.
Edward x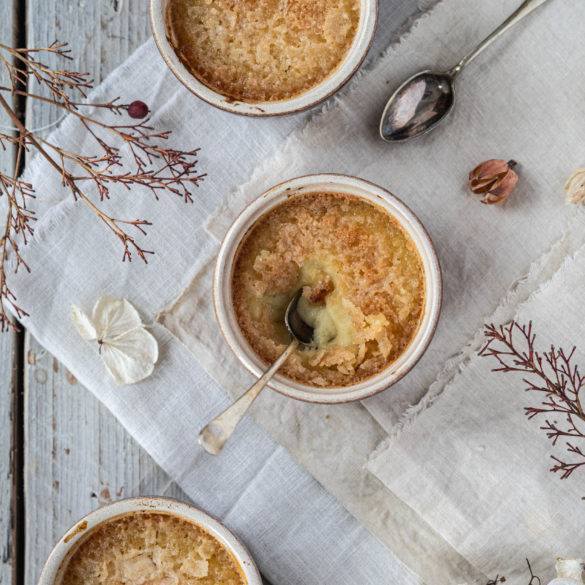 Ingredients
80g ground rice

400ml coconut milk

2 cardamon pods, seeds

½ orange, juice

½ lemon, zest

1tsp orange blossom water

½ vanilla extract

50g raw unrefined cane sugar
Instructions
Place the rice, milk juice, blossom water, cardamoms seeds and extract into a high-speed blender. Blend well.
Pour into a saucepan and place on a low heat over the smallest hob setting. Use a flat spatula. Stir continuously.  The pudding should slowly start to thicken.  Be careful it doesn't burn. This will take about 10 minutes.
Transfer to four ramekin dishes. Smooth over.
Spoon over the sugar over the Rice Pudding.
Place the ramekins under a grill at 210 degrees Celsius – the sugar should crystalise and turn a golden-brown colour.
Serve immediately.