Savour some non-melty cheese that'll have you at ease. And, gorge.
Firm Vegan Cheddar Cheese with a rice base flavoured with garlic, onion, mustard and a hint of lemon and turmeric.
This dish will topple your belief that vegan food can't be simple to make.
Make this:
When going to the shops is not an option and rustling up your own money saving vegan cheese is
When your kiddies need a hearty lunch packed with cheese that's packed with flavour and leaves them satisfied
When you just can't be fagged to reach for anything but a bit cheese, tomato and bread and lounge in front of the laptop and salivate over my recipes (it got your attention..)
Vegan Cheddar Cheese made with rice as its base was inspired through boredom with using nut and wanting to create a cheese that saves on the pennies leaving your pocket slightly heavier.  Making your own cheese means you are in control of what goes into your body – instead of processed, you get to flavour a cheese.  This cheese is also slightly springy and that is due to the Irish Moss which gives this dish a lift.
Vegan Cheddar Cheese is one of my signature dishes.
Keep the Vegan Cheddar Cheese in sealed containers in the fridge.
Rice is high in carbohydrates providing energy for the body.
Vegan Cheddar Cheese is paleo and gluten-free.
Love.
Edward x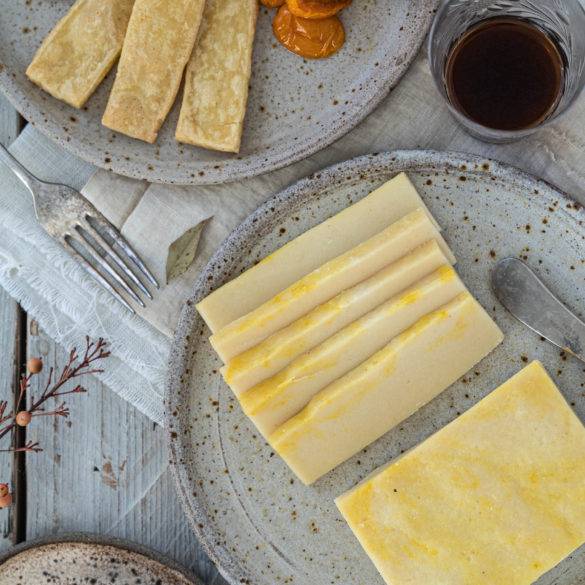 Ingredients
350ml filtered water

5g Irish Moss

200g ground rice

75g tapioca flour

50g coconut oil, melted

1tbs garlic powder

1tbs onion powder

½ tsp French mustard

½ tsp salt

1tbs apple cider vinegar

½ lemon, juice

Pinch of turmeric
Instructions
Soak the Irish Moss in water overnight.
Whizz the Irish Moss and water in a blender until fine. Add in the remaining ingredients but not the coconut oil and whizz until well combined. Add in the coconut oil. It should be a fine creamy consistency.
Spoon into a steam tray and please in a steamer for 30 minutes.
Allow to cool and gently remove from the steam tray. Place in a sealed tray and serve as necessary, including air-frying slithers. Note this cheese is non-melty.