Creamy nutty pecans infused in cherry-candy-like scented cinnamon, sweet fragrant nutmeg and sweet-liquorice Star anise dipped in molasses maple syrup on a bed of malty amaranth pastry; Pecan Pie.
Devour something gooey and sticky into your cakehole.  Careful when leaning in for the kiss though….
This dish will burst your belief, that vegan food can't be super yummy.
Make this:
When you're vying for some pure indulgence but not in the bedroom
When it's the 4th July and you want to celebrate a little independence with the friends and family and yearning for something memorable
When you've got a dinner party over and want your guests fawning over how fab your food really is
Pecan Pie was inspired by when attending a café in Boston and being served with this quintessential American pie.  Pecan nuts are native to North America with the sugar, molasses and syrup giving this dish a deep caramel flavour.
How pecan pie may have come about is lost in time, either from the French colony of Louisiana or from the makers of the Kara syrup brand keen to promote its corn syrup. However, it came about, pecan pie is one of those pie crust dishes that reigns supreme in taste, colour and texture and that has you diving for more into that gooey sugary custard layer.
Prune puree, I purchase from Urban Native Organics and Wholefoods in Stroud Green, London.  It's a small store, which I support.  You can find them here 
It's the Clearspring brand that I use of the Prune puree.  Normally, once open, I place in the freezer for use subsequently.  This keeps it fresh and available to use at any time.
Amaranth seeds, I get from a non-profit small charitable store in Stoke Newington, London – I like to support small outlets, where I can.  You can find the shop here
Pecan Pie is vegan, paleo and gluten-free.
What to do next
Tag me on @ethiveganquantum on Instagram to show me what you've made and let me know you're happy for me to share.
My recipes are featured in vegan speciality publications: Nourished, Vegan Life, Plant Based and Vegan, Food and Living.
Order my first self-published book, "Essence: The Beginner's Guide to Veganism" part of the three-part Circle of Food series. My second book "Presence: The Ascending Vegan" – which explores how to maintain a vegan practice is out in 2027 – I have compiled all the chapters including recipes.
Going strong since 2013.
Love.
Edward x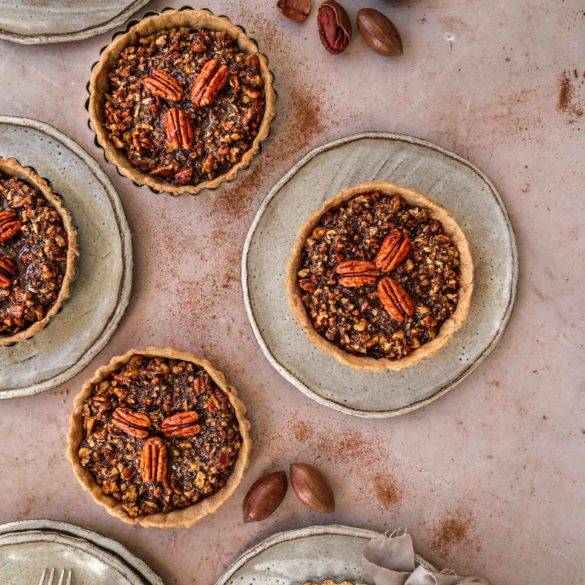 Ingredients
Filling

250g pecans

65ml maple syrup

125g golden syrup

50g raw unrefined cane sugar

1tbs molasses

½ cinnamon stick or 1tsp cinnamon, ground

¼ fresh nutmeg or ½ tsp nutmeg, ground

1 Star anise

25g flaxseeds

25g oats

25ml water

Pastry

Dry ingredients

100g amaranth seeds

50g oats

25g flaxseeds

25g raw unrefined cane sugar

Pinch of salt

75g tapioca flour

Wet ingredients

30g prune puree

8tbs filtered water

40g coconut oil
Instructions
Pre-heat the oven to gas mark 180 degrees Celsius or if you have a fan oven 160 degrees Celsius.
Make the pastry by placing the dry ingredients (not tapioca flour) into a high-speed blender and blending till fine. Transfer to a large mixing bowl add in the tapioca flour.
Toss in the prune puree and mix with hands. Next add the water. Continue using the hands. Then add the oil and knead into a bowl. Cover and leave the dough to rest in the fridge for about 30 minutes.
Line 6 4-inch mini-tart shells with oil to ensure that the dough doesn't stick.
Place a dough between two baking sheets and roll into a rectangle or circle – the rectangle or circle should be large enough to cover the base of the tart dish. Cut away any excess. Prick the base with a fork all over. Bake the base in the oven for 10 minutes. Remove from the oven. Set to one side.
In a high-speed blender whizz together the flaxseeds and oats until fine. Place in a container and add the water. Use a fork to smooth out any large lumps (don't worry too much about this). Set to one side.
In a grinder, grind the spices. Set to one side.
Place the maple and golden syrups in a non-stick pan with the sugar and stir until melted. Add in the flaxseed mixture. Switch off the heat.
Add the spices to the pan and continue stirring. Finally, add the pecans until well-integrated.
Use a spatula to spoon the pecan mixture onto the amaranth pastry base. Spoon over until the pecans are flat. Cook the pie in the oven for 10 minutes.
Serve the Pecan Pie warm or cold with a tub of nice ice-cream or on its own.