Piccalilli, otherwise known, as Indian pickle is a traditional British interpretation of hewed picked vegetables combined with Indian spices. It makes a great accompaniment to naan, toast and dishes that need something to lift or contrast with.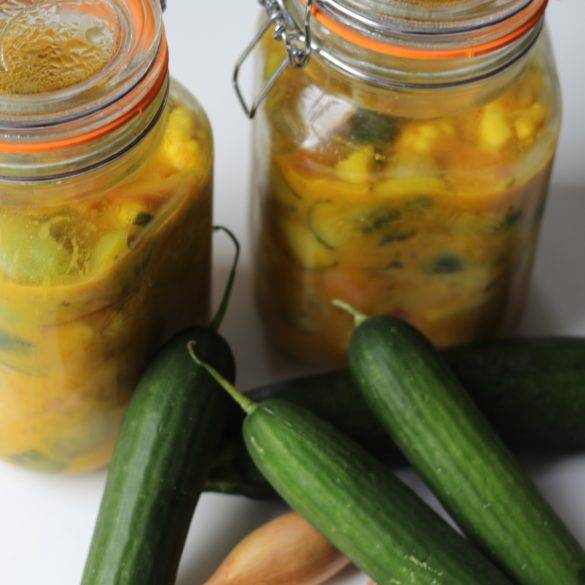 Ingredients
200g cauliflower, florets
200g courgettes, diced
200g cucumber, diced
200g tomatoes, green and quartered
150g shallots, quartered
50g salt, fine
500ml malt vinegar
1tbs coriander seeds
1tsp cumin seeds, lightly minced
1tbs turmeric powder
1tbs mustard powder
500g unrefined raw cane sugar
2tbs flour
Instructions
1. Place the vegetables in a large bowl and swirl the salt round so that all the surfaces are covered. Remove and place the vegetables in a colander over a large bowl. Rest a dishcloth and leave for about 24 hours. The bowl should collect any excess fluid.
2. Top tip – there are various alternative ways to make Piccalilli, but the purpose of placing in salt with colander is to ensure that any excess fluid is drained off. It makes for a crunchier recipe.
3. The following day, ensure that the jam jars to be used have been steralised, washed and boiled in boiling water. Leave to one side covered.
4. Wash the vegetables in the colander under cold running water to remove the salt. Pat dry with a tea towel and leave to one side.
5. Measure out 50g of malt vinegar and lightly toast the coriander seeds for about three or four minutes. Add the cumin, turmeric and mustard powder. Mix to a paste.
6. Add the remaining vinegar and sugar and bring to the boil. Reduce the heat substantially and add the vegetables. Cook the vegetables for no more than three minutes before adding and dissolving the flour. The sauce will start to thicken up. Continue cooking under a gentle heat for a further three to four minutes. Switch off and set to one side.
7. In the absence of a jam funnel, use a slotted spoon to place the Piccalilli in the jam jars. Seal and place in a dry dark cupboard for about a month to allow the flavours to really meld.
8. Serve as required
Notes
By Edward Daniel, Vegan Chef and Former Chair of The Vegan Society. Contributor to Vegan Life Magazine, Plant Based Magazine, Vegan Food and Living Magazine and OK! Magazine. Speaker and cooking demonstrator at Vegan Life Life Festival London, Mind Body and Spirit Festival London, Veganes Sommerfest Berlin, and Bali Vegan Festival. Author of "Essence: The Beginner's Guide to Veganism".