Autumnal Mushrooms; fleshy oyster and shiitake, crispy sweet pear and apple and bitter chard spread over sourdough.
Tantalise your flanks. And, perish any dirty thoughts.
This dish will obliterate any belief that vegan food can't be super nutritious.
Make this:
When you're feeling frazzled. Your head is spinning. A grounding dish laden with supple chard and earthy mushroom on toast will have you back on your feet in nowt time
When you've got mates visiting from the City for the weekend. You're the host/hostess with the mostness
When you've just been to the local farmers market, laden with earthy wares. It's time to return to unpretentious pleasures
Autumnal Mushrooms was inspired when I had friends visiting from the country. I'd wanted them to feel homely – something non-fussy and filling as we explored London town.
This mushroom dish is vegan and paleo.
What equipment to use
For this recipe, I suggest:
Stove
What to do next
Tag me on @ethiveganquantum on Instagram to show me what you've made and let me know you're happy for me to share.
My recipes are featured in vegan speciality publications: Nourished, Vegan Life, Plant Based and Vegan, Food and Living.
Order my first self-published book, "Essence: The Beginner's Guide to Veganism" part of the three-part Circle of Food series. My second book "Presence: The Ascending Vegan" – which explores how to maintain a vegan practice is out in 2027 – I have compiled all the chapters including recipes.
Going strong since 2013.
Love.
Edward x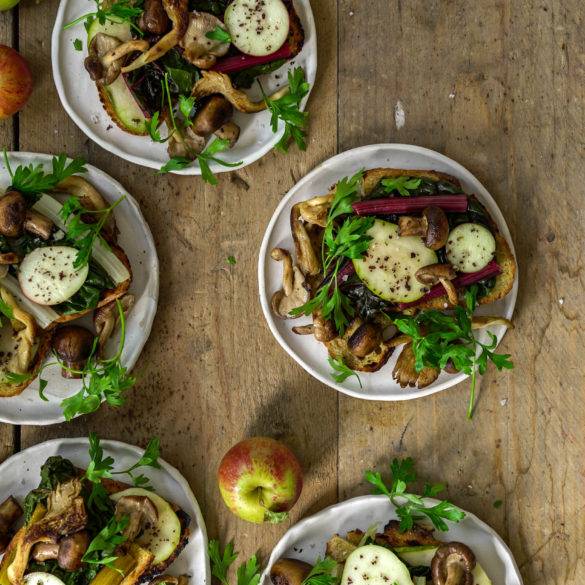 Ingredients
4tbs extra virgin olive oil4tbs extra virgin olive oil

1tbs sesame seed oil (optional)

4 gloves of garlic, sliced

4 shakes of pepper

250g chestnut mushrooms

250g white mushrooms

100g oyster mushrooms

100g shiitake mushrooms

1 pear, unwaxed

1 apple, unwaxed

½ lemon, juice

200g chard

Loaf of sourdough
Instructions
Use a cloth to wipe the dirt off the mushrooms.
Quarter the chestnut and white mushrooms and place into a medium fry pan. Pour in the oil. Toss in the garlic and shakes of pepper. Cook over a medium heat until the mushrooms reduce in size and turn brown. Switch off the heat.
Wash the chard in a colander under cold water. Drain any excess water. Place into a separate medium saucepan. Cook until for about three or four minutes until the leaves start to soften and wilt. Switch off the heat.
Slice the sourdough and toast until the surface hardens.
Bring the mushrooms back on heat and cook for about three to four minutes.
Lay the chard as a bed on which to lay the slices of toasted sourdough. Toss over the mushrooms.
At the time of serving, slice the pear and apple. Toss into the lemon juice. Lay over the dish.
Serve.