Mung Bean Lentil Curry was created for an acquaintance of mine looking for a quick and easy dal recipe. I love the vibrancy and taste.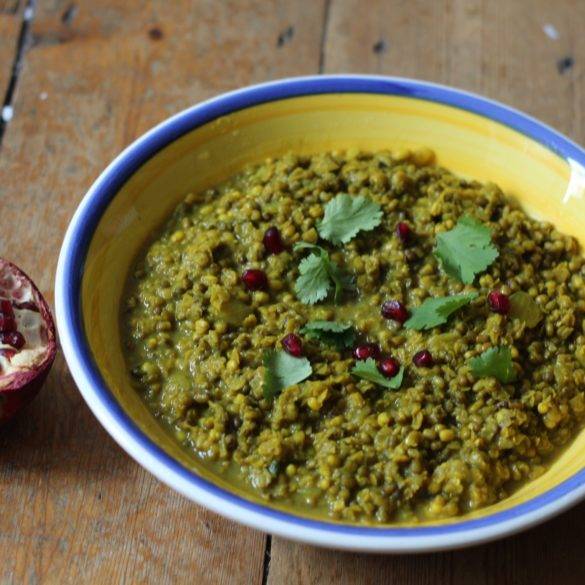 Ingredients
200g mung beans
1 onion, chopped
2tbs extra virgin olive oil
2 cloves garlic, sliced
1tbs cumin powder
1tbs coriander powder
1tbs turmeric powder
2ltr filtered water
200ml red lentils
Coriander leaves for garnishing
Pomegranate for garnishing (optional)
Instructions
Soak the mung beans overnight in water. Drain and wash in fresh water removing any grit.
Place the onion, garlic and oil in a pressure cooker with the lid off. Cook until the onion turns translucent.
Add the cumin, coriander and turmeric powders and form a marsala paste. Add mung beans and the measured water. Seal with the lid and place under pressure for about 20 minutes. Remove from the pressure.
Wash the red lentils in water and add to the pressure cooker and cook under a gentle heat for about 20 minutes until the lentils have melted and discoloured. Stir occasionally.
Just before serving combine in and garnish the dish with coriander leaves and optional pomegranate.