Tender little chick pea buckwheat pocket pan fried dumplings with an acidic salty fermented sauerkraut, earthy mushroom and mild sweet onion filling; Pierogi.
Grab something moist and spongy round your tongue.  And, swivel.
This dish will overcome any belief vegan food can't be scrumptious.
Make this:
When you've got Auntie Betty popping over for afternoon tea and need a snack to satiate her appetite while dinner is being prepared
When your kids have been away for a playdate and come back yapping, and a dish that'll have them back grounded for the evening
When you've the lads over for a bevvie and need the perfect dish on the side
Pierogi was inspired by a close Polish friend who told me that when younger, he would spend the entire day with his granny making Pierogi – it was a labour of love. This dish has sauerkraut, mushroom and onion filling.  It can be served throughout the day.
Pierogi is a traditional semi-circular wrapped dumplings and a national dish of Poland.
This savoury dish is vegan and gluten-free.
What to do next
Tag me on @ethiveganquantum on Instagram to show me what you've made and let me know you're happy for me to share.
My recipes are featured in vegan speciality publications: Nourished, Vegan Life, Plant Based and Vegan, Food and Living.
Order my first self-published book, "Essence: The Beginner's Guide to Veganism" part of the three-part Circle of Food series. My second book "Presence: The Ascending Vegan" – which explores how to maintain a vegan practice is out in 2027 – I have compiled all the chapters including recipes.
Going strong since 2013.
Love.
Edward x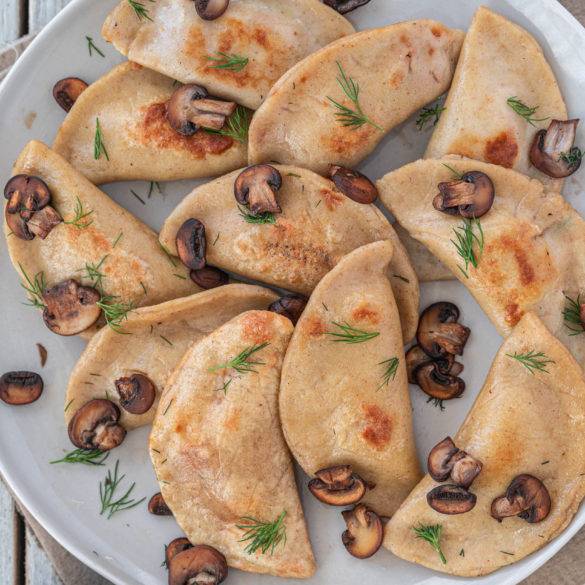 Ingredients
Pastry

100g chick pea flour

100g buckwheat groats

100g tapioca flour

165ml boiling filtered water

25g flaxseeds

1tsp xanthan gum

1tbs lemon juice

½ tsp salt

Filling

1 onion

2tbs olive oil

200g sauerkraut

100g mushroom

Pinch of salt and pepper

Few sprigs of dill
Instructions
In a high-speed food processor, grind the buckwheat groats, flaxseeds and salt until fine. Transfer to a large mixing bowl. Add in the chick pea flour, tapioca flour and xanthan gum. Combine well.
Pour in the lemon juice and boiling water. Mix with a spatula and then knead into a dough. Cover and set aside for 30 minutes.
Sauté the onion in oil until translucent. Add in the mushroom. The mushroom should reduce in size.  Switch off the heat. Toss in the sauerkraut and season to taste.  Mix in chopped dill.
Break the dough and roll between two sheets of parchment paper. Roll to a thin circle.  Grab the base of a 5-inch flan dish and circle and cut round the dough. Transfer a large baking tray lined with parchment paper. Repeat until completed.
Use a teaspoon to place the filling into the centre of the cut-out dough. Have a separate bowl filled with filtered water and dip your finger within and line the water round the edge of the dough. Wrap the dough round. Repeat until completed.
In a large saucepan, boil filtered water with salt. Once boiled, add in the Pierogi. Boil for 3 to 4 minutes. The Pierogi should come to the surface. Use a slotted spoon to remove.
Place the Pierogi on a plate. Serve with yoghurt. Alternatively, leave overnight and the following day sauté in oil, both sides, under low heat until golden.